In this article:
New Cambly Tutors
Current Cambly Tutors
New Cambly Tutors:
1. Why call another Cambly tutor?
If you are a new tutor, we completely understand that you may be nervous to get started! That's why Cambly offers you one 15-minute lesson to call another Cambly tutor. This not only allows you to familiarize yourself with the platform, but to also have any lingering questions you may still have answered by a fellow Cambly tutor. We recommend all new tutors first read through the Tutor Guide. After reading through the Tutor Guide, please prepare any questions you may have for the tutor you connect with.
2. How do I call another Cambly Tutor?
To call another Cambly Tutor, follow these easy steps:
1. Log into your account. When you log in, you will automatically be logged in as a student (no worries, every existing tutor has both a student and tutor account!).
2. If you are already logged in as a tutor, please click the circle (your profile picture) in the top, right corner of the page. On the drop-down menu, click "Switch Role" and select "Student".
3. To start your call with a tutor you have 2 options:
1. Click on the "Start 15-minute trial" to be automatically paired and connected with a tutor.
2. Scroll through the available tutors and select one to call directly!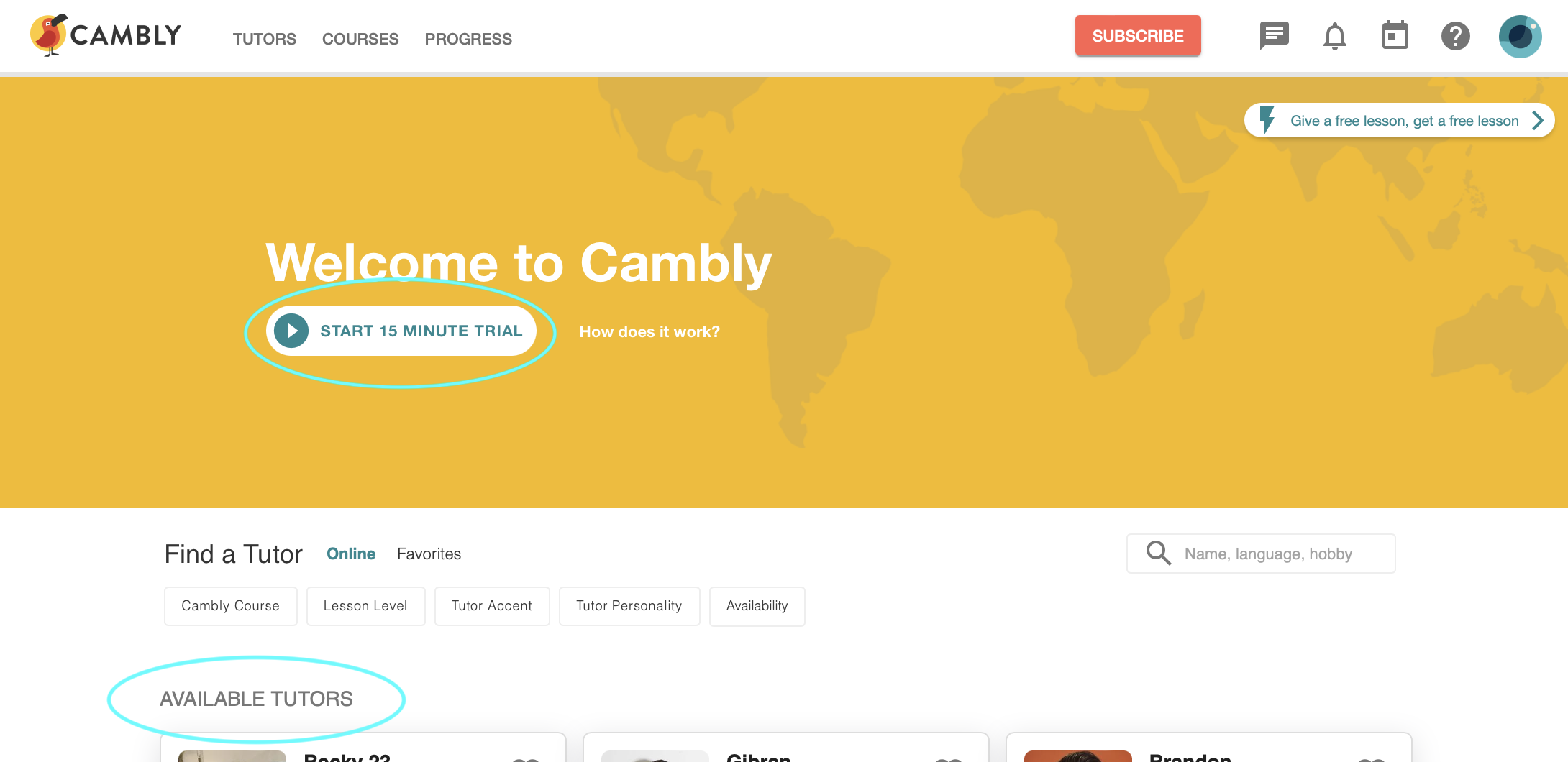 Once you make the call, you will be taken to the classroom as a student.
3. What should I ask them?
First and foremost, immediately introduce yourself as a new tutor using your one 15-minute call as a student to talk to a current tutor. Letting the tutor know this information up-front will help you get the most out of your call!
The main goal of these minutes is for you to not only see the classroom before giving your own lesson but also to connect with a fellow tutor and ask any questions you may have! For example, you might ask them:
What they wish they would've known going into their first lesson on Cambly
Their top 3 tips for tutoring on Cambly
How to utilize the functions in the classroom (whiteboard, screen-sharing, using the Library)
What their favorite thing about Cambly is
Or just talk to them about how you're feeling about tutoring and/or ask for words of encouragement!
We encourage all new tutors to not only read through the Tutor Guide first, which may help inform some of your questions you plan on asking the tutor you call.
4. What's next?
We hope that using these minutes and chatting with another tutor help you feel even more prepared for your first lesson on Cambly! If you have any remaining questions, please search our Help Center. If you cannot find the answer there, feel free to reach out to our friendly Tutor Support Team.


| | |
| --- | --- |
| *Note: If you did not get the information you would have liked out of your call with a fellow Cambly tutor, or wish to learn more, you may send in a Support Request to request an additional 15-minute call. Please explain the circumstances, and the Tutor Support team will review the request. While an additional call on your student account is not guaranteed, our Tutor Support Team will make every effort to ensure you feel comfortable going into your first call. | |
Current Cambly Tutors:
1. Receiving calls from other Cambly Tutors
Cambly offers new Cambly tutors the option of signing on as a student to call another Cambly tutor as a way to prepare for the early days of tutoring on Cambly. Don't be surprised if a Cambly tutor calls you!
2. Returning the Lesson
If you are unable to take the 15 minutes to chat with a new tutor, or are uncomfortable doing so, simply let the new tutor know that you will be returning their minutes, and they should find another tutor to call. As a reminder, you can learn more about returning student lessons here.