The repeat lesson feature enables tutors to schedule multiple lessons with a regular student at once. Learn more about adding students to your regulars list here! This article will walk you through how to schedule a repeat lesson:
Scheduling a Repeat Lesson with a Regular:
Click the calendar on the date and time you'd like to schedule your first lesson. Select your student and check the Repeats weekly box.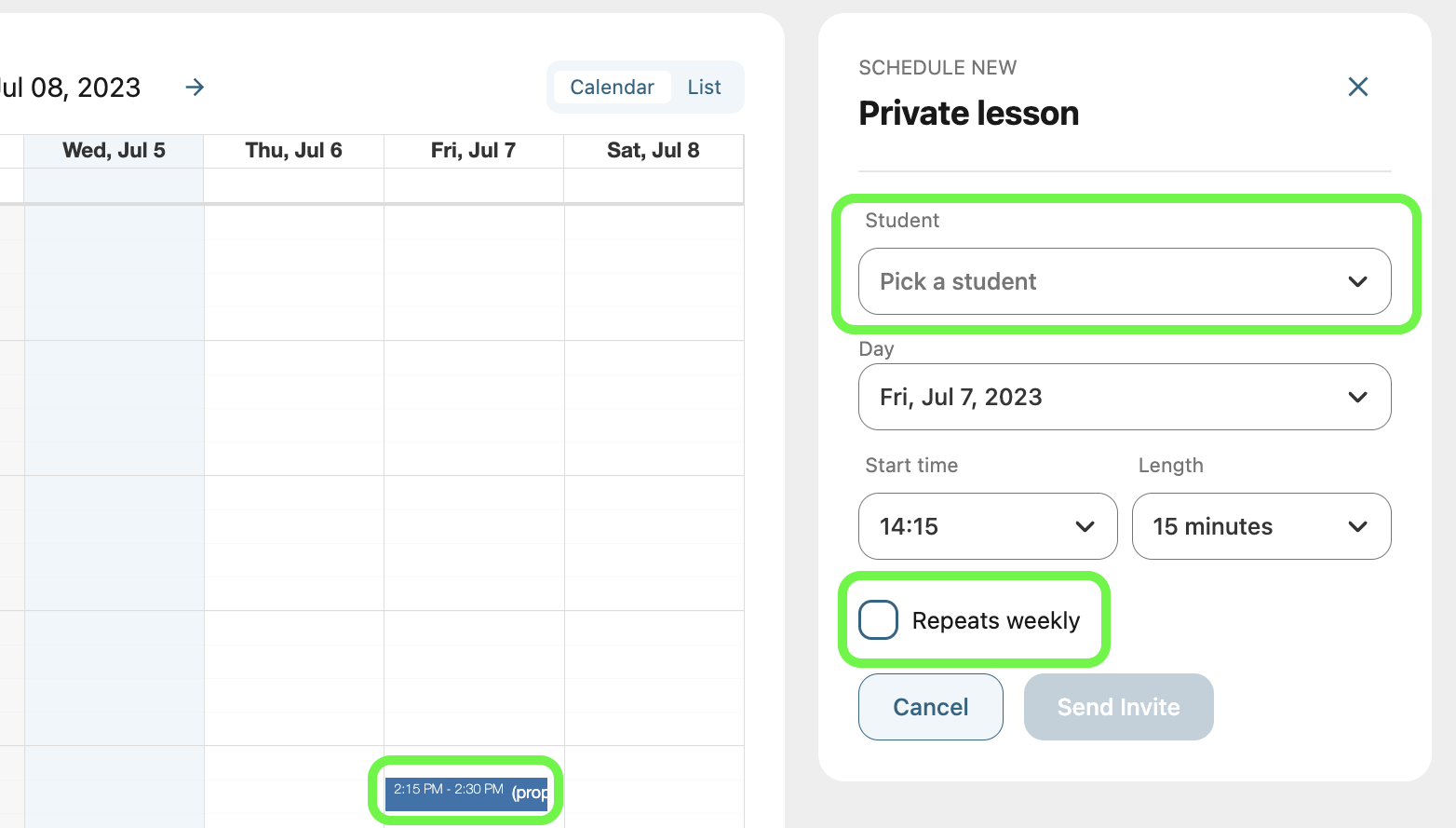 | | |
| --- | --- |
| | Repeat lessons must start at least a day in advance. If the lesson you are proposing to your student is within 24 hours, the Repeats weekly box will not be available to select. |
By default, the end date will populate to six months out. If your student's subscription plan ends prior to that date, it will default to the last date before the student's end subscription date. You can edit this end date to be any date you'd like, up to a year out, or up to your student's subscription end date, whichever comes first.
Once you click send invite, you will receive a confirmation pop up before the official send. If everything looks good, select Send invite now.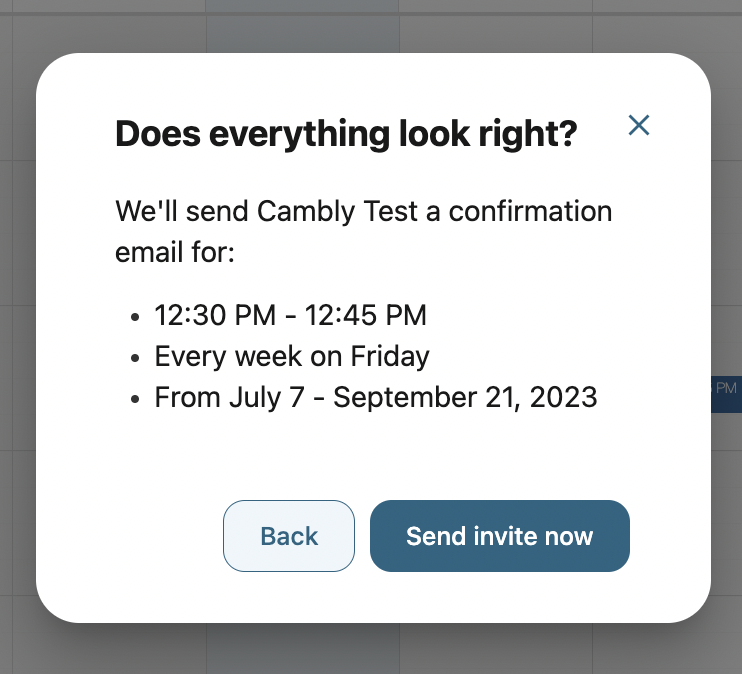 You will then see the first lesson as a proposed lesson on your reservations calendar until your student accepts or declines the repeating lesson proposal. While the lesson is pending, only the first lesson will be on your calendar. You will not see additional repeating lessons.

Once your student confirms or declines, you will receive an email. The email will include any dates that could not be confirmed due to student conflicts. You will also see all confirmed reservations on your calendar.
From here, each individual lesson is treated like any other confirmed reservation. For example, tutors are still eligible for late cancellation payments, late student pay, disconnection pay, etc.
Frequency Asked Questions
Are repeat lessons available in Cambly Kids?
Yes! All tutors have access to scheduling repeat lessons. Please remember: your student must be marked as a regular to propose a repeat lesson to them.
How do Repeat Lessons handle Daylight Savings Time changes?
The time of the repeating lesson stays the same on the tutor's schedule. For example, if you have a repeating lesson at 9am and then your clocks go back or forward an hour, the lesson remains at 9am on your schedule. Depending on the student's time-zone, the lesson may appear at a different time on their end. Cambly notifies students if their repeat lesson time changes in their local time zone.
Can I schedule a repeating lessons for twice a week or every other week?
Right now the Repeat Lessons feature is only available for weekly lessons at the same time, on the same day, each week.
What are student conflicts that prevent lessons from being scheduled?
Examples of student conflicts are students already having another lesson at that time or unavailable lesson minutes to fulfill your request for any given week. If there are too many conflicts, the entire proposal will be declined.
Why do I get an error that says "Repeating lessons aren't available for this student right now?"
You're seeing this message because the student either doesn't have an active subscription or doesn't have enough anytime minutes to schedule repeating lessons. You may be able to schedule repeating lessons with them in the future.
What if my student doesn't respond to my proposed repeat lesson invitation?
If a student has not responded to the proposed repeat lesson invitation, it will be automatically cancelled 12 hours prior to the first lesson. Tutors can also cancel proposed repeat lesson invitations at any time.