What is a Priority Hour?
A Priority Hour is a one-hour block where:
You commit to being available on Cambly for the full hour and answer all incoming calls.
We feature you to new students and pay you for at least 15 minutes of chat time just for completing the Hour, even if you don't get any calls!
They are a great way to meet new students and build your base of regulars.
How do I get started?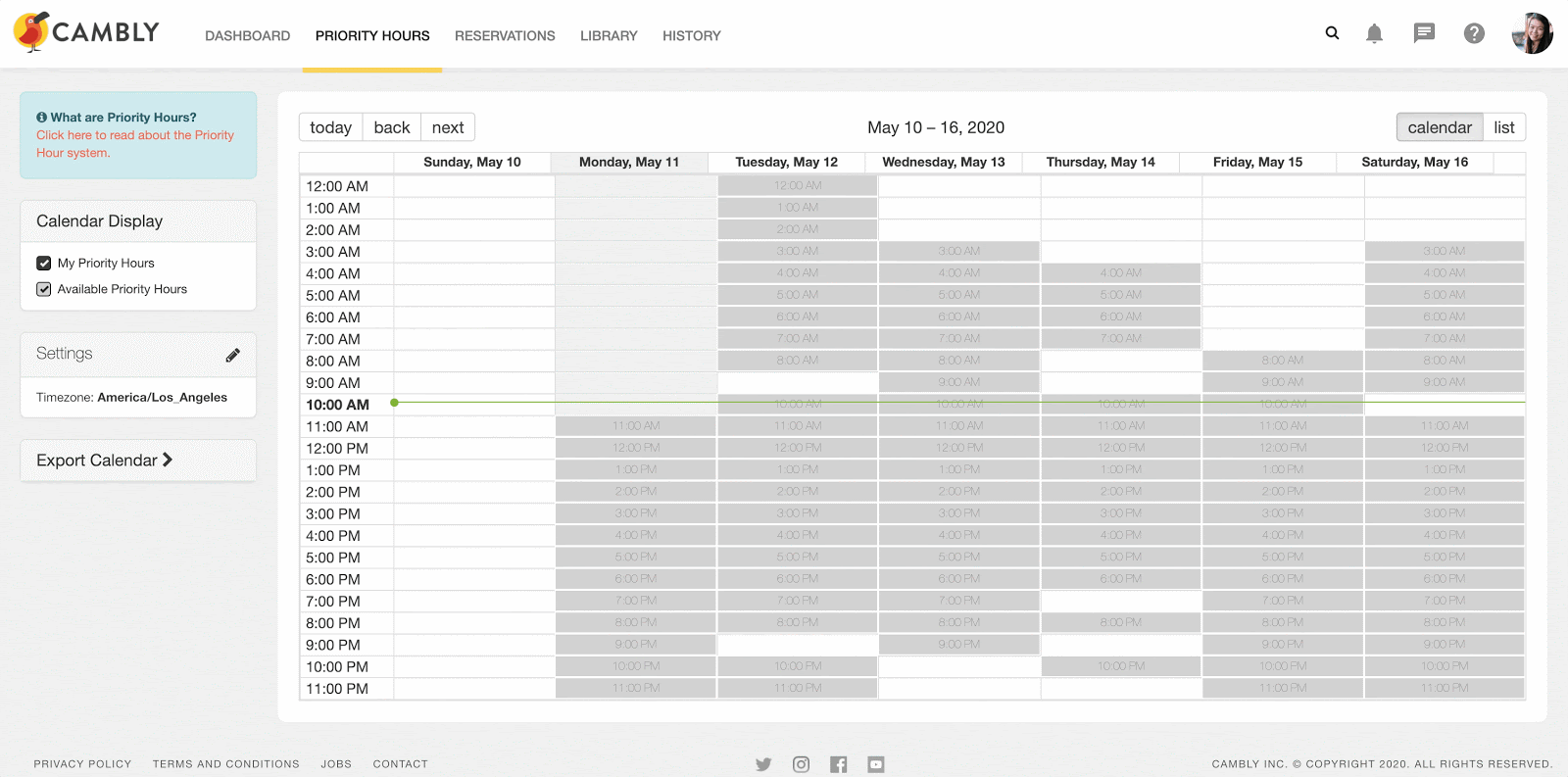 Sign up for Priority Hours
Go to your Priority Hours tab and select any of the available hours you would like added to your schedule (up to 10 within any 24-hour period). Priority Hours that are successfully added will turn black. Depending on your Tutor Rating, you'll be able to schedule PHs up to 3 weeks in advance.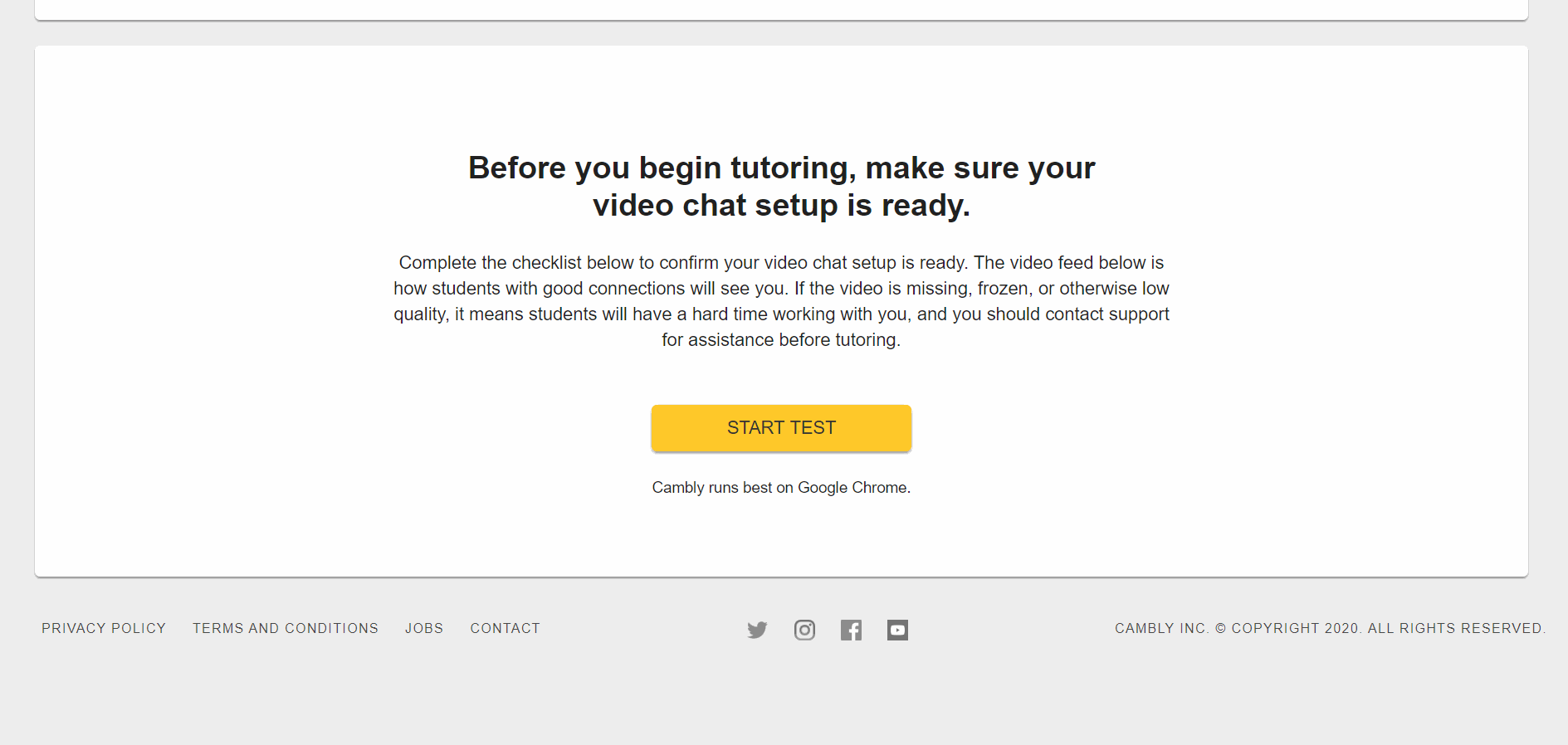 Sign in a few minutes early
It's best to sign in a few minutes early to test your connection. We'll send you an email one hour before your PH starts as a friendly reminder.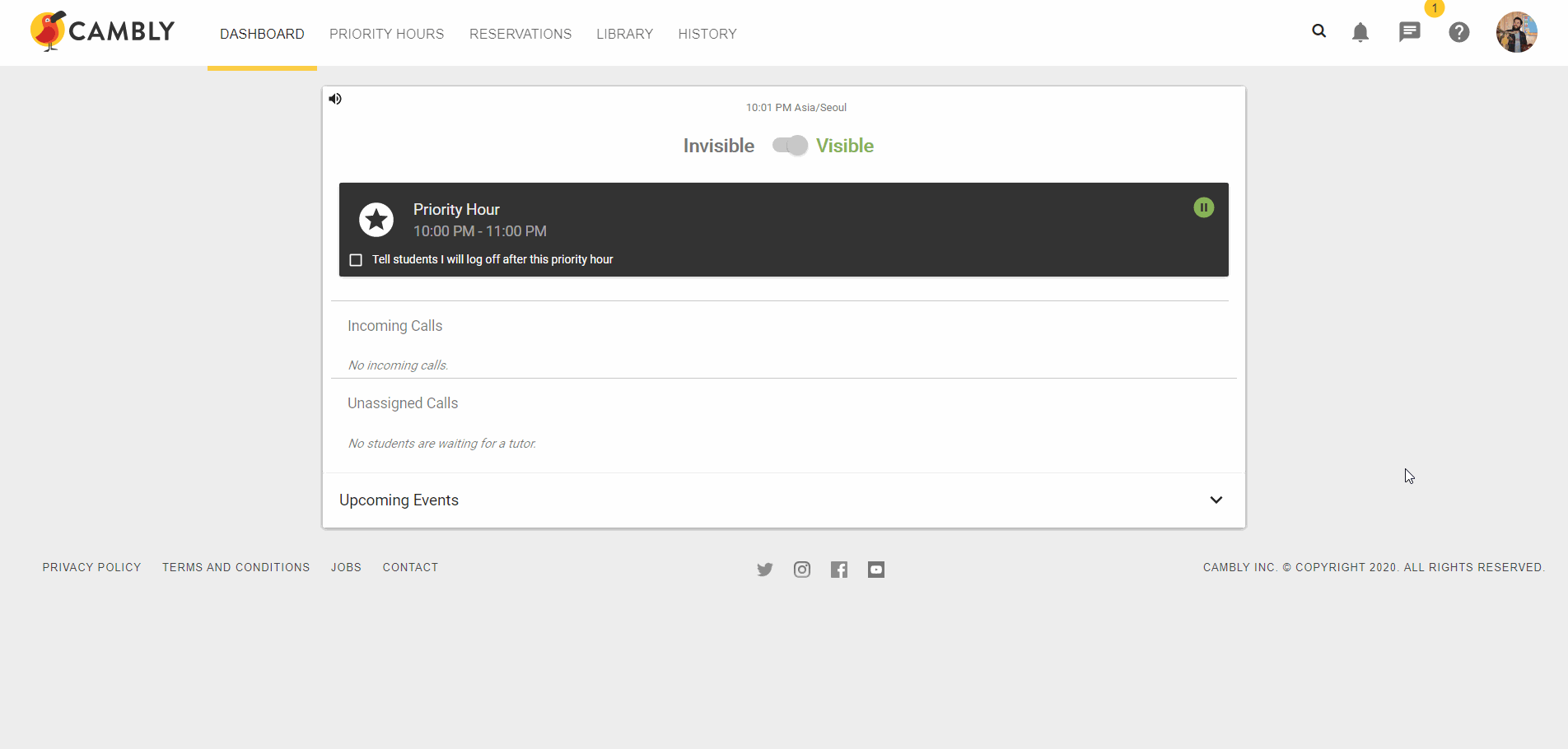 Chat with students
Incoming calls will appear on your Dashboard. Simply click on one to answer and start chatting! During your PH, we'll send you calls marked "Notify Only You" introducing you to new students. These calls are especially important when you're a new tutor and looking to build your base of regulars.
If a student calls you towards the end of your Priority Hour, let them know you'll be logging off soon. You can chat with them until the hour is up, then politely excuse yourself. If you're really enjoying the conversation and have some extra time, you're more than welcome to continue the call! There's no penalty for chatting after your Priority Hour and you'll still be paid based on the length of the call.
Please be aware that signing in late, ignoring calls, and signing out early may cause your Priority Hours to be automatically dropped, which may hurt your ability to sign up for more Priority Hours in the future (see "Cancellations and No-shows" for more details).
When are "peak times" on Cambly?
We have some awesome news for you. You aren't restricted to specific peak times when tutoring on Cambly! Tutors are able to chat from practically any time zone because of our large international student base.
If you're looking for particularly busy times, look no farther than Priority Hours! Our system tracks student demand and releases Priority Hours based on that data. This helps keep the number of online students and tutors in balance.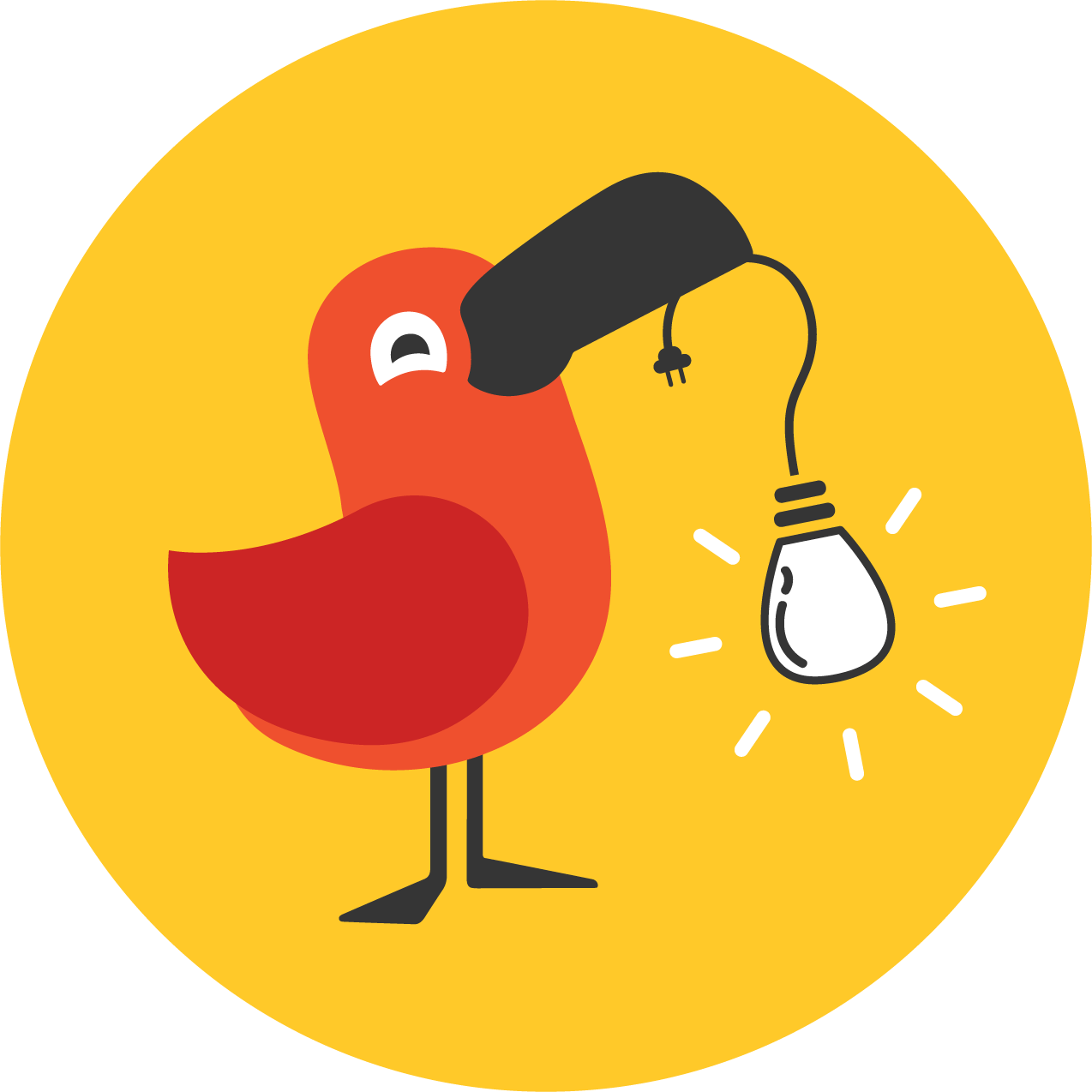 Pro Tip: If you really click with a student, try to coordinate your next session with them. Ask when they typically log in and invite them to reserve time with you (see Part 4: Reservations). It can be helpful to suggest a topic for next time. Example: "Why don't you reserve a session with me tomorrow? We'll spend the time prepping for your interview."

What if I need to cancel?
Priority Hours should be canceled at least 12 hours in advance so other tutors have enough time to pick them up. To remove a PH from your schedule:
Go to your

Priority Hours tab

.

Click the Hour you need to cancel, then click okay.
If you have to leave a Priority Hour urgently, that's no problem! Our system is designed to overlook one-off misses. If your Priority Hour is within 12 hours but you no longer can make it, it is better to drop your Hour late than to miss it. However, canceling too many Priority Hours short notice may lead to your Priority Hour access being temporarily blocked.
Please note that even though you can't tutor from your phone or tablet, you can do pretty much everything else, including using your mobile browser to cancel PHs if you don't have access to your computer.
For further information about Priority Hours, check out the Priority Hours & Reservations section.

Priority Hour Bonus Opportunities
Cambly will occasionally have bonus periods during which we guarantee 30 minutes of paid chat time during your Priority Hour, even if you don't get any calls. That means you'll be paid $5.10 or your actual paid chat time during that Hour, whichever is higher. Time slots with this guarantee are marked with a yellow triangle:



During our highest peak times, Cambly will also sometimes have additional bonus opportunities for certain priority hour slots. These time slots are marked with a blue triangle and have a + sign. If there is both a + sign and a number, that means there is both a minute guarantee and a bonus opportunity.


| | |
| --- | --- |
| Note: Because the bonus requirements change from time-to-time, it's not always the case that signing up for a slot will automatically earn a bonus. | |
To ensure that you receive a payout when signing up for these slots, please be sure to refer to this article which has the most up-to-date information about our Priority Hour Bonus Opportunities.

Remember: Access to priority hours fluctuates based on supply and demand. Sign-up for these priority hours now before they get filled!

Related Help Desk Articles: