How do I handle cultural differences?
Cambly students are from around the world, oftentimes from countries with vastly different cultural norms! Although this is wonderful in many respects, it also means you may encounter cultural norms that may be surprising to you.
This might include excessive compliments, questions about your age or marital status, connecting with shirtless male students in Brazil (where it's culturally normal to be shirtless at home), or connecting with driving Saudis (it seems dangerous, but it's normal there).
As with any culturally diverse workplace, it is important to be tolerant of cultural differences and remember that students may not mean any offense. However, if you feel that the conversation is too uncomfortable for your liking, you are welcome to change the subject: "Actually, I would rather not speak about that. Why don't we talk about your family?" or even very politely end the conversation.
Some cultural norms to be aware of include:
Brazil: In Brazil, it is culturally normal for men to be shirtless around the house, especially in the summer, so please don't be alarmed! It's also common for both men and women to call while reclining in bed or on a couch, even though they are serious about learning.
Saudi Arabia: Some Saudi men may use Cambly while driving. Although technically illegal in KSA, it is common to the point of being culturally normal. Tutors who feel uncomfortable with this are welcome to ask the student to call back later or to turn off the camera. In Saudi Arabia, it is also culturally normal for women to turn off their camera or cover their camera with their hands. Additionally, both Saudi men and women are generally more sensitive about information being shared about them publicly.
Middle East Region: It's culturally normal to smoke hookah (aka sheesha) while chatting with friends. You may notice some students smoking a pipe-like device with an attached hose while talking to you. Hookah is tobacco-based and legal across the Middle East.
Southeast Asia: It is common for Asian students to be more reserved than students from other regions. Tutors have noticed that they are also more likely to prefer covering content during sessions to help structure the conversation. Tutors also report that they tend to expect the tutor to take the lead in determining the session topic/lesson.
All Students: In most non-Western cultures, asking tutors their age and marital status is very common and considered non-offensive. If you prefer not to answer, feel free to redirect the question to another topic or advise the student that these questions are not commonly asked in Western culture. Also common are excessive compliments (at least by Western standards). Many times students from other cultures believe that they are extending appreciation through compliments and do not mean any harm. However, if you believe a student's remarks become inappropriate in any way, you are empowered to change the subject or hit the "Report" button and end the conversation.
Children: Sometimes children will use Cambly, either supervised by the parent or on their own. Many tutors find that sessions with children are most successful if the parent is within earshot and can help moderate.
Will I be working with kids or adults?
We currently have two platforms: Cambly and Cambly Kids. Some children have not yet transitioned over to the new platform. As a tutor, you can encourage them to do so by visiting cambly.com/kids.
Cambly Kids is a platform geared for children 4-15 years of age. It's kids-only, reservation-only, and each session follows a 30-minute lesson in a curriculum. It also has a higher pay rate of $0.20/min ($12/hour). You can apply to be a Cambly Kids tutor by following the steps below:
1. Click on your profile picture in the top right corner
2. Click on "Edit Profile"
3. Scroll down and click on "Apply to become a kids tutor"
4. Fill out your kids tutor profile
5. Submit!
What if the student requests I teach a language other than English which I also speak fluently?
Normally, we ask tutors to speak only English in all their classes. If, though, a student specifically requests you teach a different language you speak well, or fluently, and you're 100% happy to do so, then that isn't a problem. Please only do it when it's specifically requested.
How can I encourage new students to request me?
Experienced students will browse profiles of all available tutors, before calling the one they like the most. Therefore you can attract more new students by creating an inviting tutor profile. Try posting a friendly-looking headshot, adding a variety of interests, listing all of your additional languages, and recording a short profile video that showcases your personality.
You can also showcase your teaching style by uploading a short (2-5 minute) lesson video. It can also be helpful if you send promising students an encouraging message after you speak with them. For example: "I really enjoyed speaking to you today! I hope we speak again soon, as I'd love to talk more about ____."
I don't want to work with beginners. Can I still tutor?
Tutoring on Cambly is an exciting and dynamic activity as you can literally receive calls from students from all over the world and with all levels of English! Some tutors prefer to tutor certain levels of students. We highly recommend including in your tutor profile video and blurb, which levels of students you prefer to work with on Cambly.
We strongly encourage you to try your best to engage with students of every level. A little preparation - props, flashcards, articles, pictures etc. - will help to facilitate communication, especially with beginners. Additionally, our text chat box will help you translate and communicate with any student! Please try your best to tutor every student that calls you.
After the call, it is a tutor's prerogative to hide the student from her/his account, if the tutor feels the student wasn't a good fit for her/his tutoring style. While all tutors should be prepared to tutor all levels of students, it's perfectly acceptable for tutors to gravitate towards teaching one certain level over time as they impress students and build up a list of dedicated, regular students.
Sometimes I can't help my student. How do I refer another tutor?
Sometimes a student will prefer the tutor speak his native language or may require special tutors (TOEFL, Business English). In these cases, you can ask your student to search for another tutor or you may want to refer another tutor.
You can check out other tutor's profiles by clicking your profile photo in the top, right-hand side of your dashboard. Then select "Switch Role" and click "Student".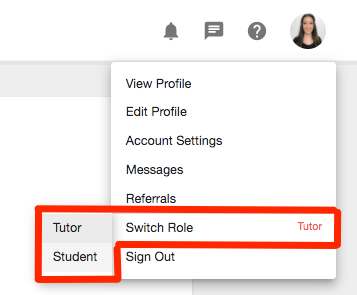 This will direct you to the student interface. You can see which tutors are online (yourself included!) and check out their profiles. You can use the search box to look for tutors with shared languages or interests as your student.
You can also join the "
Cambly Corner
" Facebook group for Cambly tutors! On this page, you can create a post when searching for a tutor with a particular niche for your Cambly student. Often times, many tutors will offer their username for you to share with the student!
What if I run out of things to say?
We've got your back! Here are some suggestions on how to reinvigorate your chat:
"What do you want to practice today?"
"Why do you want to practice speaking English? Where do you speak English? How will learning English help you improve your life?"
"Let's play the question game. First, you ask me a question, and then I'll ask you a question."
"Tell me about your coworkers/family. Can you describe each person to me in detail?"
"First I'm going to tell you about my day. Then I want to hear about yours."
"Tell me about your favorite meal. Describe the ingredients, how it's prepared, and how it tastes."
"Can you describe your typical day for me? What do you do in the morning, the afternoon, and the evening?"
"Tell me about the things you enjoy doing on the weekends."
"What are some things you want to accomplish this year?"
"Tell me about your favorite movie/book/tv show. Who are the characters? Why is it your favorite?"
"Do you have kids? A spouse? What are they like?"
Let's role play. I'll pretend to be your boss, and you can practice giving me an update on your most recent project. Or I'll be a prospective customer, and you can practice selling your company's service to me. Or I'll be your assistant, and you can practice detailing my task list for the week.
Also, check out the Teaching Resources section of the Cambly Library for games, discussion topics, and other material to cover in class. Giving a little structure to your sessions can help students maximize the usefulness of their sessions.