We know that you are excited to start tutoring! We also know that it could be nerve-racking to pick up your first call whether it's on a Priority Hour or a reservation. That's why we wrote this article, to help you answer any questions you might have prior to your first call. Don't worry, you will do great!
Picking up Calls
Once you successfully complete your connection test a few minutes before your reservation or Priority Hour starts, you will be directed to the Dashboard to wait until it begins.
When a call comes in, you will see an answer and decline button. If you are not required to answer a call, the decline button will be live and available to select. If you are required to answer a call, the decline button will not be available to select.
Calls you are required to answer:
Tutors are required to answer all calls on a priority hour that do not extend beyond the end of the priority hour commitment.

Tutors are also required to answer calls from reservations. Below is what you will see with these incoming calls, where the decline option is unavailable.

Calls you are not required to answer:
If you are on a priority hour and you receive a call that extends beyond the duration of your priority hour commitment, you will have the option to decline it. If you are able and willing to complete the entire call length, please accept the call. If you are unable to stay for the entire call, please decline the call.
For example: if you have 45 minutes left of your Priority Hour, and a call comes in for 60 minutes, you will have the option to decline the call. If you are willing and able to stay the entire 60 minutes, extending beyond the priority hour, you are encouraged to accept the call. If you are unable or unwilling to stay for the entire 60 minutes, please decline the call.

If you are not on Priority Hour and simply set to "visible", you are able to decline any call that comes in (assuming it is not a reservation).

Declining Student Calls
If you decline an incoming call, the student sees the decline message below and will be prompted to select another tutor.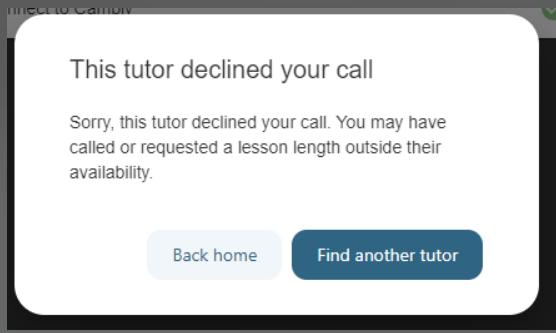 How long should I wait for my student to call?
Not on Priority Hour
If the student is late, you are only expected to wait for 10 minutes after the scheduled start time. After 10 minutes, you can log off if you'd like. You will be automatically paid for the 10 minutes that you wait.

You're also welcome to answer other calls that come in. We will alert you 1 minute before your reservation start time, so you can begin wrapping up your current session. We alert you again when your reserved student calls in, allowing you to transition directly into the next call with one click.
If your reserved student doesn't show up at all, then no problem, you get to continue working with your current student. We will also credit your account with the 10-minute no-show credit in this case.
On Priority Hour
If you are on Priority Hour, you should accept all calls directed to you. While on Priority Hour, you won't have the option to be "visible only to your reserved student." We alert you when your reserved student calls in, allowing you to transition directly into the next call with one click. If your reserved student doesn't show up at all, we will also credit your account with the 10-minute no-show credit in this case.
Student Information
If a student books a reservation with you, you will have the opportunity to click their student profile and view their information. Some students choose to fully complete their profile with where they're from, their level, goals, current focus and interests. However, sometimes this information will be incomplete so there is no guarantee that you will have access to this.
If you are on Priority Hour, calls from a variety of students will be directed to you and you will not have the option to view their information other than their username. This means that while on PH, you will not be able to see how many minutes the student has, their level, where they are from, etc. If you answer a PH call and the student has more minutes than you are able to stay online (their minutes exceed your Priority Hour), you may politely let them know that you will need to go soon at the start of the lesson. That way, the student can be prepared to say goodbye or can call another tutor who is available for more time.
Chat Screen
As you connect with a student, you'll see the below Classroom format. On the righthand side, you'll see a vertical panel that allows you to flip between chat messages to the student, the student's profile, and your lesson library. You'll see a countdown timer for the session length and also a report/ban button on the top lefthand side.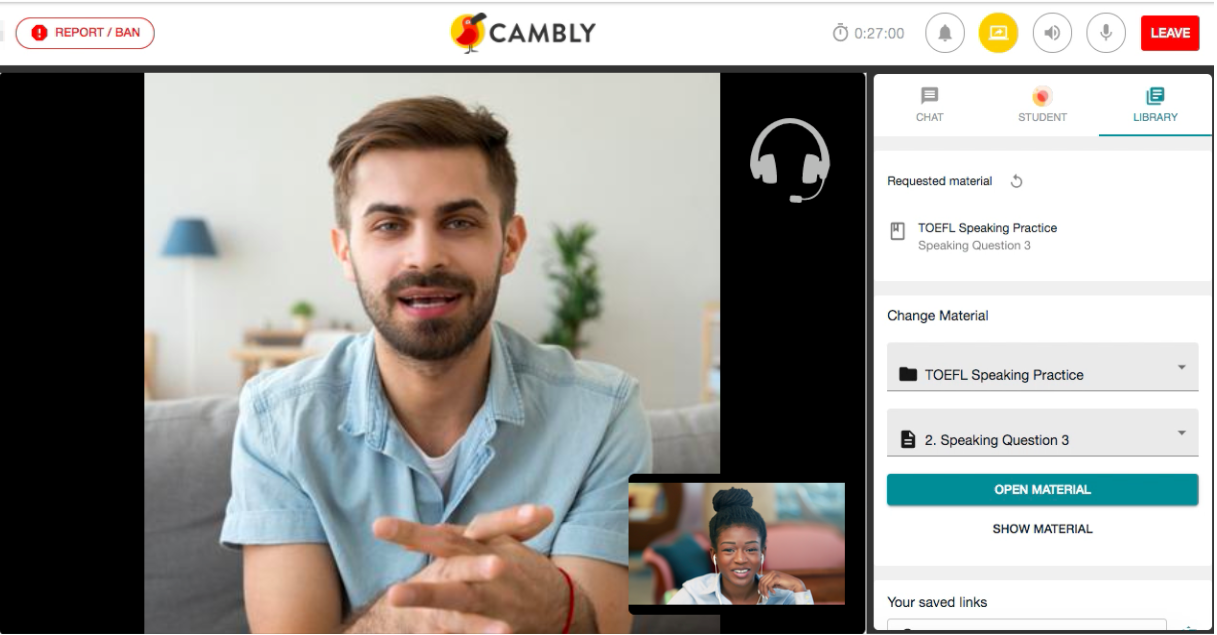 Check out a comprehensive video tour of the Classroom here.
Problems with Calls
Why can't I hear calls ringing?
With the latest Chrome updates by Google, it is getting harder for sounds and notifications to grab your attention in tabs that have not been interacted within a set amount of time. This can have adverse effects on Cambly with incoming calls not ringing on your dashboard which can lead to missed calls.
To try and solve this we have added a notification to let you know that your ringer has been disabled and that interactions are needed on Cambly in order to re-activate the page. You will see a notification that looks like this:

By pressing on 'Enable Ringer' you are letting Chrome know that the page is still active and you are allowing audio to come through, you can also click anywhere on the page to reactivate the ringer. Below is a short video of what this will look like in action.
Why aren't I getting any calls?
If you are not receiving any calls, first, make sure your status is set to "visible"! Next, make sure you are signed up for priority hour, especially if you are a new tutor. While you're on priority hour, we will automatically direct students' calls to you. If you are not on priority hour, you will only receive calls from students who specifically request to talk to you after searching for skills/experiences listed in your profile.
Oh no, I missed some calls or was detected offline!
We understand that internet outages, emergencies and missed calls happen to the best of us. That's why our system is designed to overlook one-off misses. There is no need to write in unless there is something we can do to help (i.e. tech problems).
Here are a few common reasons why you might miss calls or be detected offline. If you navigate away from Cambly's tutor side of the website and your computer goes to sleep or your internet cuts out or is experiencing seriously degraded performance (usually manifested in wildly varying or very low internet speeds and/or high levels of latency), you will likely be detected as offline. Additionally, Chrome will put inactive browser tabs to sleep.
This means if you leave Cambly in the background Chrome may stop data transmission to it. This can happen even sooner if you are using your computer for other tasks especially those that are more bandwidth intensive. The best way to be sure this doesn't happen is to keep your computer from going to sleep, not using your computer for multiple other data intensive tasks while on PH and keeping your Cambly tab in Chrome active.
Note, in the event of a Cambly-wide outage (see Cambly's status page here), please do submit a request so we can restore any affected Priority Hours right away.
Why did you set me to "Invisible"?
If you miss a call from a student who specially requests you, we automatically set you to invisible. To the student, this will look like you've just signed offline. This is to prevent students from calling you repeatedly while you are away from your computer and becoming frustrated. Once you return to you computer, you can set yourself as visible again by using the dropdown menu on the Dashboard tab of your tutor account.
If you're removed from a Priority Hour, we'll also set your status to "invisible" automatically for the same reasons.
Other
What if I want to ignore a troublesome student but I'm on a PH?
When you are on a Priority Hour, you should answer the call from the student at least once. If your student is clearly not serious or is causing problems, you can politely suggest that they call you back when they are ready to learn English and say goodbye. If the student continues to call you, you can either give them another chance, or you can ignore the call.
As long as you have answered the student's call at least once during Priority Hour, avoiding their calls during the rest of the PH will not be counted as "missed calls" for you. For example, if you chat with John once during your PH and then ignore him 2 more times after that, we will not count as you as having missed any of John's calls.
What if I don't want to accept a student's reservation?
If you're not able to make it, you're welcome to cancel the reservation. Be sure to send a quick note to the student to explain why.
If you cancel multiple reservations in a row, however, the system will consider your schedule outdated and may clear it automatically. You can re-update your schedule at any time. More information on cancelling reservations can be found here.

Please note, if you feel that a student can chat on Cambly respectfully but you'd rather not work with them, please let us know by submitting a request and explaining the circumstances. We can block the student from being able to see, message, or make reservations with just you.