Proposing a Reservation to a Student
We have a feature that allows you to propose a reservation time to your regular students. This article will explain the process of proposing a reservation for your regular students.
To start, within the Reservations tab along the left side of the page you will find a button that reads: "+ hold a spot for a regular."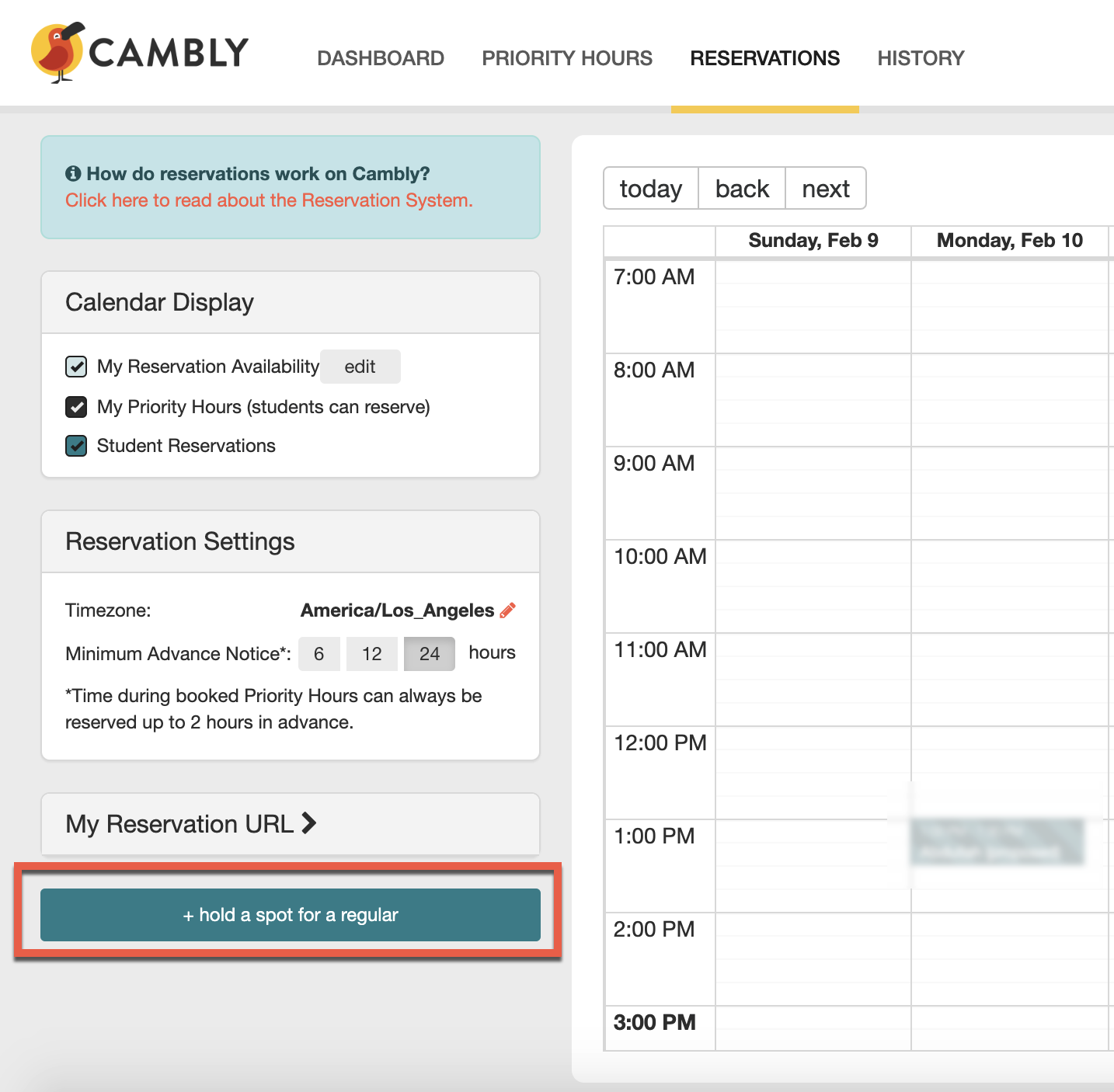 Alternatively, from a regular student's profile page you can select "hold a spot."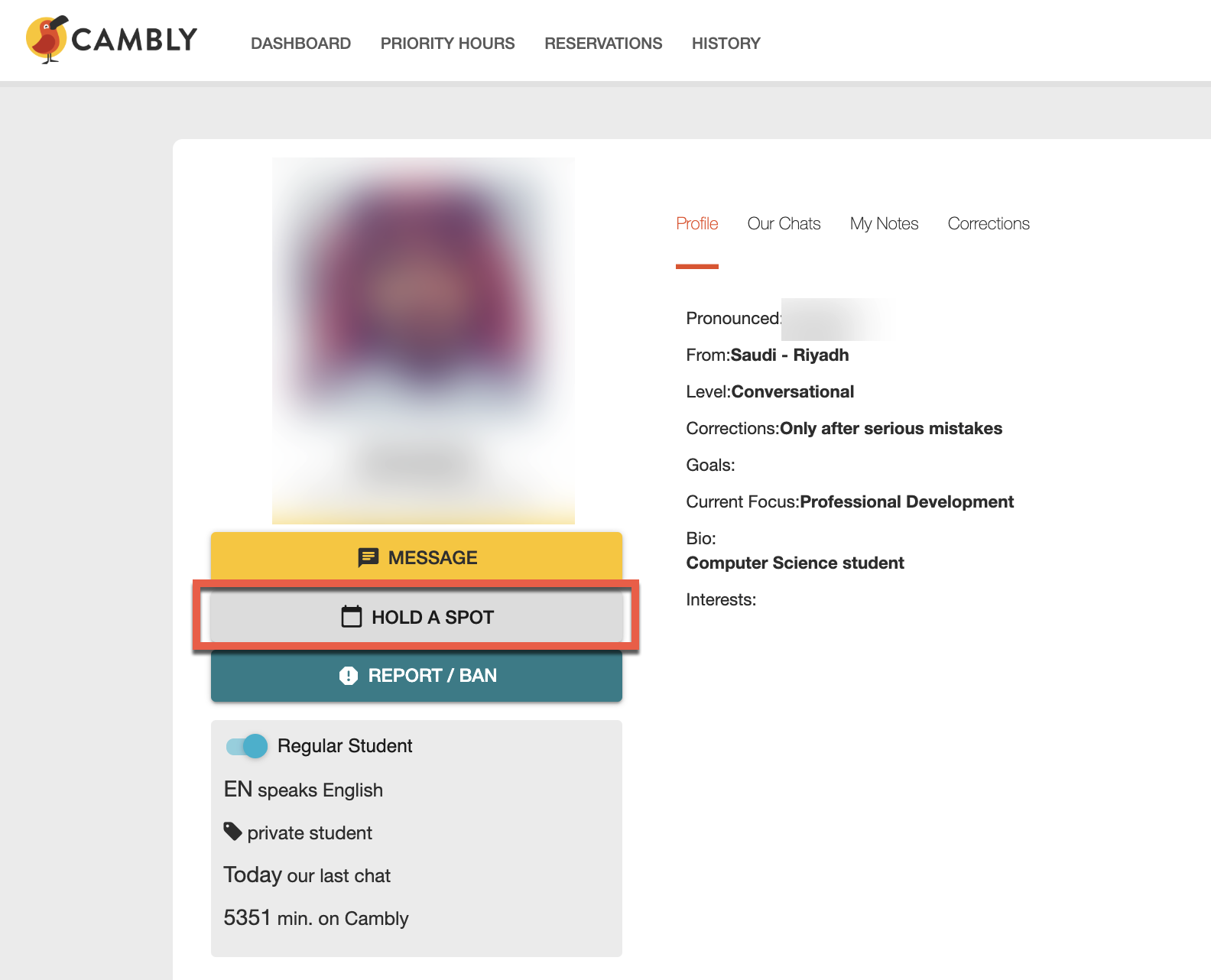 Selecting either will cause a window to pop-up. Use the drop-down menus at the top to select which regular student you are trying to create a reservation for (this will already be populated if done from the student profile page) and the length of time for the reservation. Then select the time you would like to propose on the calendar. Times/days that are unavailable to be booked either due to your or the student's schedule will be grey.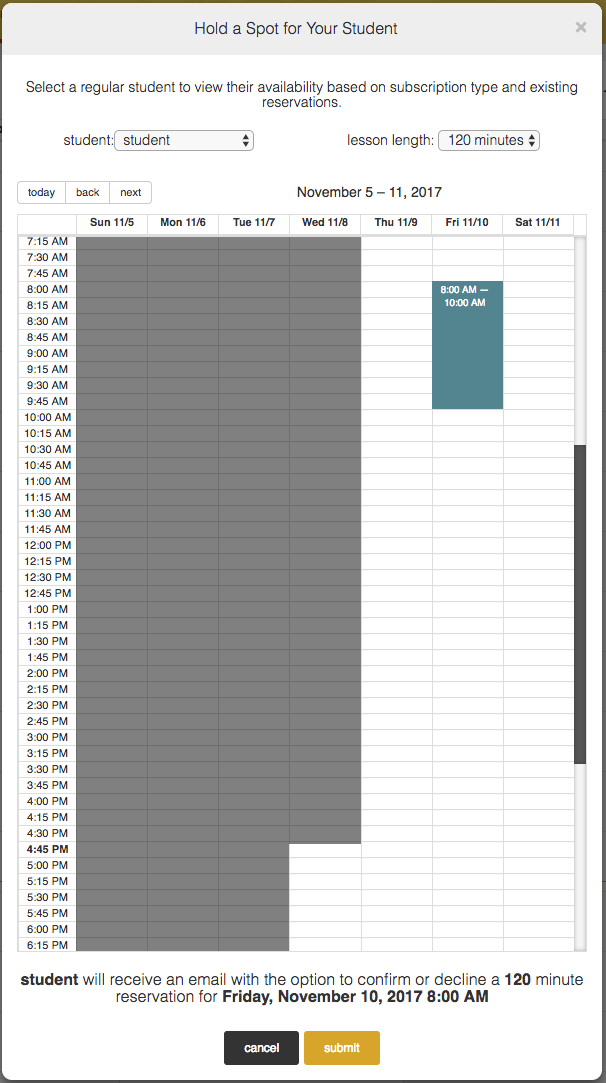 Once the proposed reservation is submitted, the student will then be sent an email to either confirm or deny the reservation. Feel free to message your student via chat to remind them to confirm or deny the reservation. If the student does not confirm or deny the proposed reservation, you are still required to log on and wait 10 minutes. You will not be compensated for these 10 minutes if the student did not confirm the proposed reservation.

Until the reservation is confirmed it will appear with stripes going through it:



Once confirmed the reservation will be represented by a solid block and will appear the same as all other confirmed reservations. If you click on the reservation (confirmed or unconfirmed) in your calendar you can get some detailed information about the reservation and cancel it if you need to: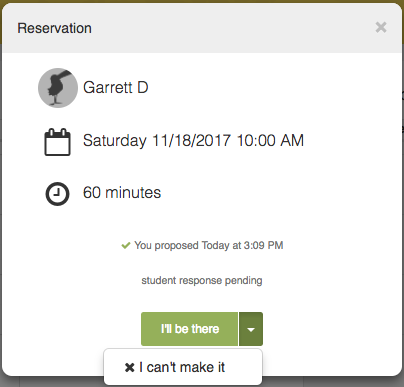 Special notes about tutor proposed reservations:
While you have a pending proposed reservation that time period will be marked as booked for other students viewing your schedule.
Reservation proposals must be cancelled at least 12 hours in advance, just as normal reservations. Please keep in mind that cancelling too many can lead to a 7-day restriction.
If you are not on a Priority Hour you will have the option to go "Visible Only to [student]" whether or not the reservation has been confirmed. Your account will be marked as "Busy in X Minutes" whether or not the proposed reservation has been confirmed and whether or not you are on a Priority Hour.
You can propose multiple times on the same day for a single student, but they will only be able to confirm as much as their plan allows. If your student confirms a time and you have additional pending reservations that the student will not be able to attend, it is your responsibility to clear those from your schedule.
If the student doesn't confirm the proposed reservation, you are still required to log on and wait the required 10 minutes. You will not be compensated for these 10 minutes if the student never confirmed the reservation.
Ratings
After your call ends, students are asked to rate and tag the reason for their rating. By collecting more details through tags on why students left a certain rating, we will be able to easily consolidate that information and surface it back to tutors.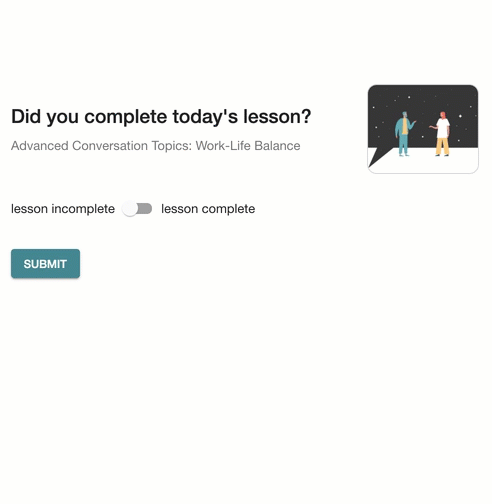 You can find out more information on ratings here.
Following Up
If you enjoyed class with the student after your first lesson, it's always a good idea to take the time and send them a message afterwards. This message shows the student that you genuinely enjoyed the lesson with them, and can encourage them to book with you again! You can keep it as general or personalized as you'd like.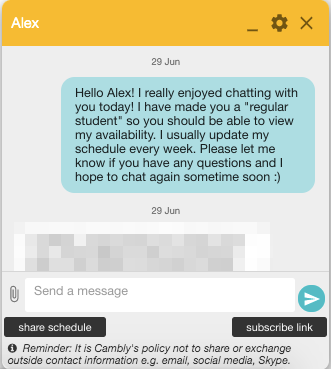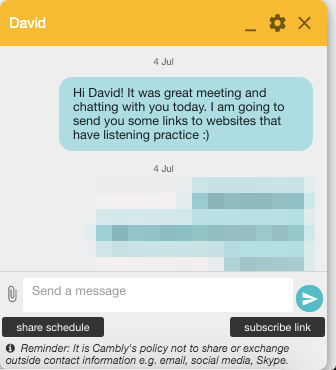 You also have the option to share your schedule with the student to encourage them to book another lesson with you. Simply click "share schedule" once you open the message box with the student and it will send them a link to your schedule.
Adding Students to "My Regulars" List
The "Regulars" feature gives tutors an organizational tool to keep track of and easily access the student profile of your regular students. If you enjoyed working with a student and they plan to book future lessons with you, it's a good idea to add them to your "My Regulars" list.
As you start building up a base of regular students, this allows more convenient access to the students you are working with on a regular basis. Students do not know if they are on your regular list, this is only for your own reference. You can open up reservation availability in your schedule specifically for regular students or you can propose a reservation with one of your regular students.
To add a student as a regular simply go to their student profile page and on the left side you will find a toggle to "Add to My Regulars".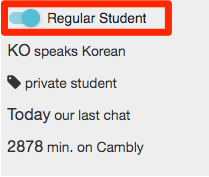 Once a student is a regular they will appear in your history page in the "My Regulars" column. If you'd like to remove a student from your "My Regulars" simply click on the "Edit" button, select the checkbox next to their entry, then select "Delete".
Syncing Your Calendar
The more you begin building up your base of regulars, the busier you may be. For those of you looking to stay organized and sync your Cambly schedule with your personal calendar, we're here to help!
You can get a URL to subscribe to your Cambly schedule on your Priority Hours page. The URL will add your Priority Hours along with your pending and confirmed Reservations.
Some calendar application will allow you to select how often the calendar refreshes such as Apple Calendar, but other Calendars (Google, Yahoo, Outlook) will refresh at an interval which you cannot change (still, they should refresh at least daily).
Different calendars use different methods for adding a URL. Some of the most common instructions are listed below:
Outlook Web (under "Add an Internet Calendar Subscription to Outlook")
Google Calendar (under "Add using a link")
Yahoo Calendar (under "Follow other calendars")
Note: Since each calendar application refreshes the calendar at different times, the URL might not always have the most recent information (if you cancel a Priority Hour or Reservation, it might take a while to see that reflected in your calendar application). Always check the Priority Hours and Reservations pages for the most up to date schedule if you have any doubt.