In this article:
---
Back-to-Back Reservations
If you have back-to-back lessons and your previous lesson auto ends OR you press the End Lesson button at the end of your previous lesson, Cambly will automatically redirect you into the classroom of your next lesson.
You are also able to navigate to your next call from within the current classroom. Simply click the bell to see your next call. Both reserved and incoming, on demand calls will display here: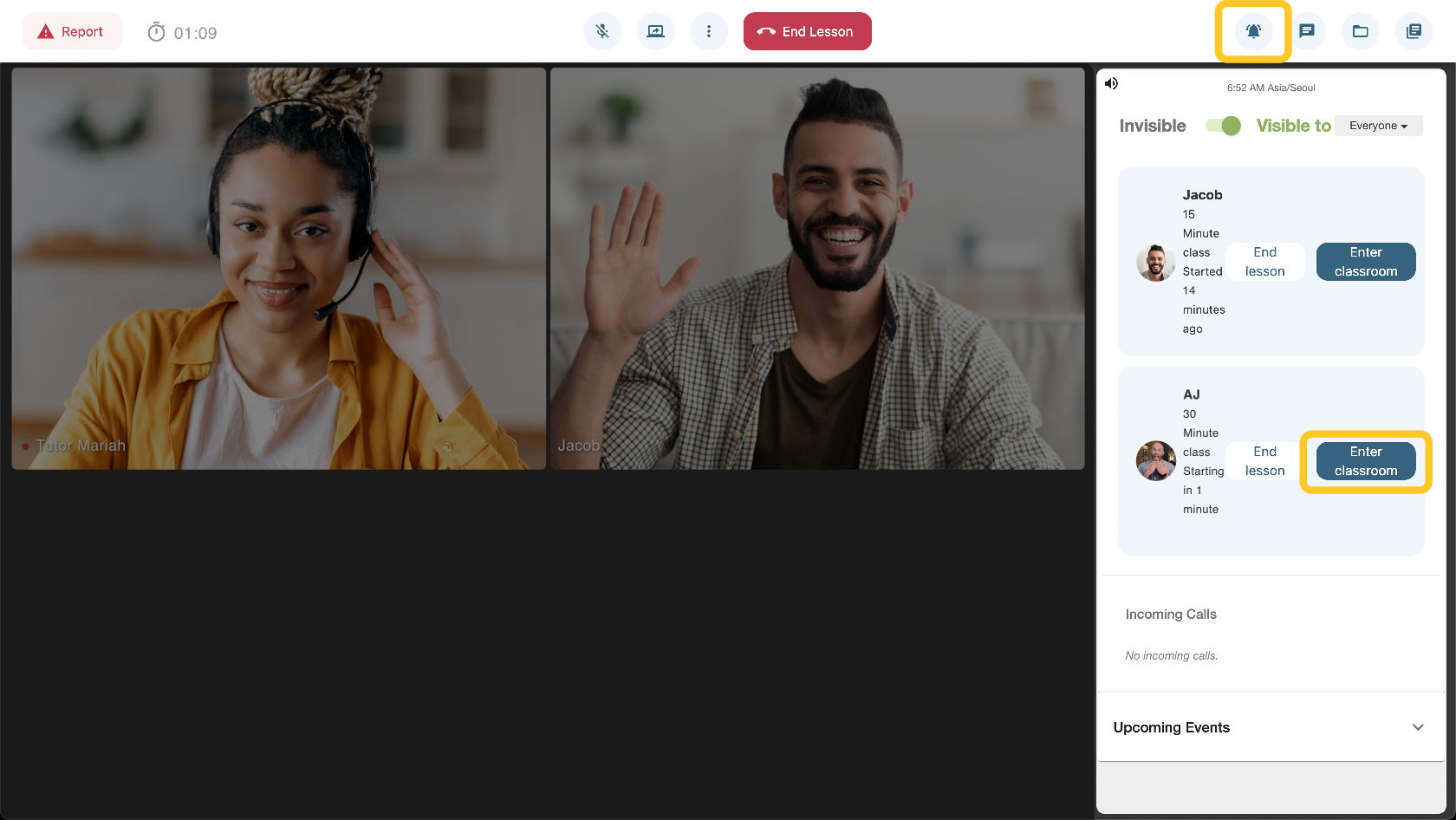 ---
Adding Students as Regulars
The "Regulars" feature gives tutors an organizational tool to keep track of and easily access the student profile of your regular students. If you enjoyed working with a student and they plan to book future lessons with you, it's a good idea to add them to your "My Regulars" list.
As you start building up a base of regular students, this allows more convenient access to the students you are working with on a regular basis. Students do not know if they are on your regular list, this is only for your own reference. You can open up reservation availability in your schedule specifically for regular students or you can propose a reservation with one of your regular students.
To add a student as a regular simply go to their student profile page and on the left side you will find a toggle to "Add to My Regulars".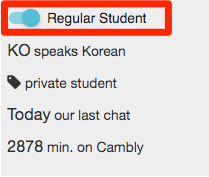 Once a student is a regular they will appear in your history page in the "My Regulars" column. If you'd like to remove a student from your "My Regulars" simply click on the "Edit" button, select the checkbox next to their entry, then select "Delete".
---
Reservation Proposals
We have a feature that allows you to propose a reservation time to your students! To send a reservation proposal, click on your Reservations Tab, then click on "Schedule private lesson" on the left-side of the page.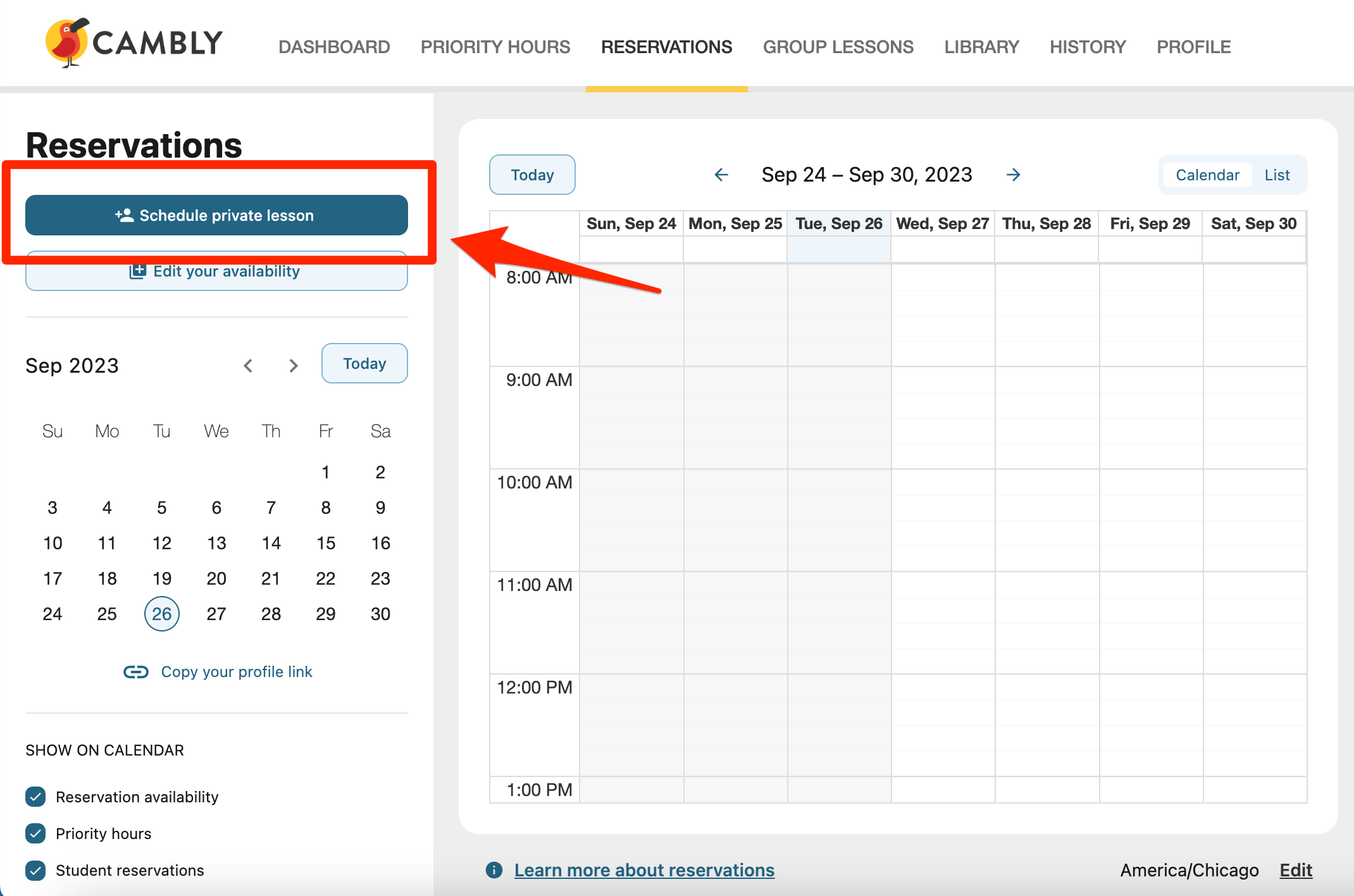 From there, you can select the student and the day/time you'd like to propose the class for.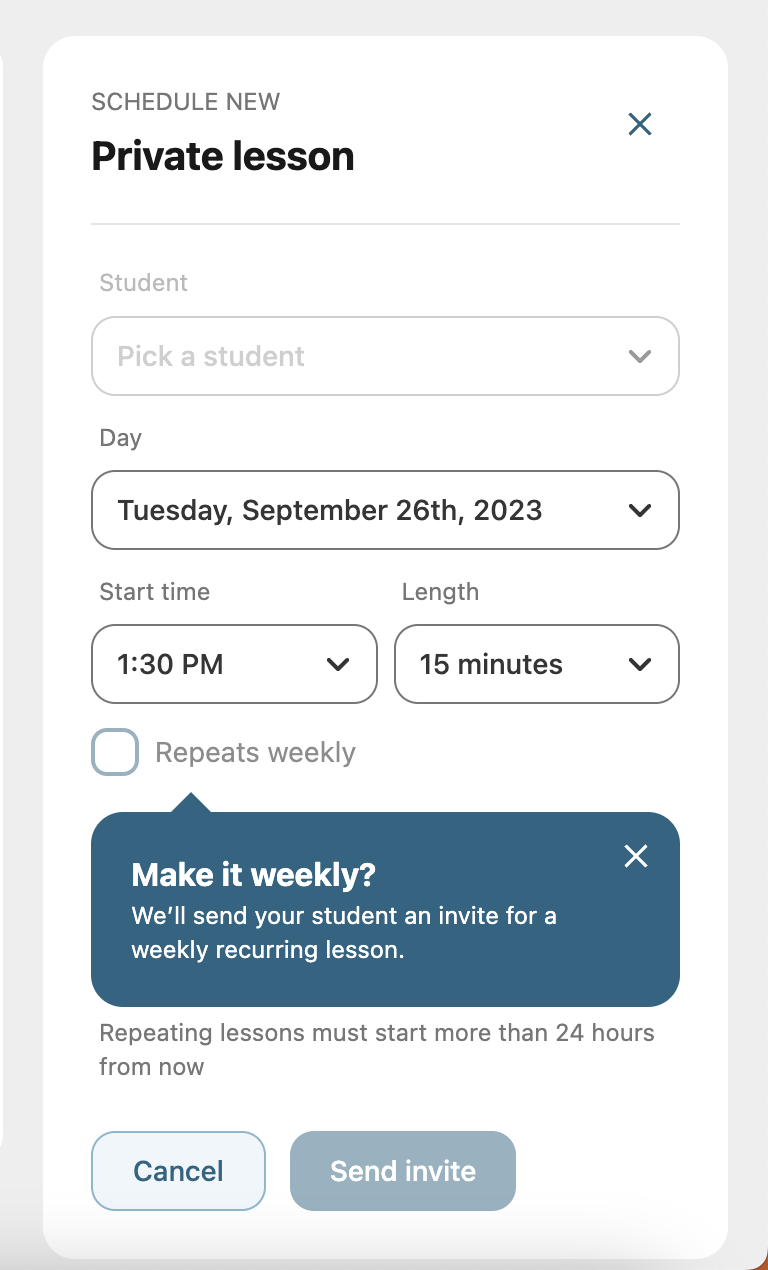 Once the proposed reservation is submitted, the student will then be sent an email to either confirm or deny the reservation. Feel free to message your student via chat to remind them to confirm or deny the reservation.
What if my student doesn't accept my reservation proposal?
If you propose a reservation and your student does not confirm, you can cancel that lesson at any time without penalty. However, if you leave the lesson on your calendar, you are still required to log on and wait 10 minutes. You will not be compensated for these 10 minutes if the student did not confirm the proposed reservation.
Tutors are unable to earn late student minutes for unconfirmed reservations in the new classroom. Because of this, you are able to cancel anytime without penalty.
Repeat Proposals With Regular Students
If you have a regular student that typically reserves at the same time, you have the option to propose repeat lessons. Simply click the calendar on the date and time you'd like to schedule your first lesson, select your student and check the Repeats weekly box.
By default, the end date will populate to six months out. If your student's subscription plan ends prior to that date, it will default to the last date before the student's end subscription date. You can edit this end date to be any date you'd like, up to a year out, or up to your student's subscription end date, whichever comes first.
You will then see the first lesson as a proposed lesson on your reservations calendar until your student accepts or declines the repeating lesson proposal. While the lesson is pending, only the first lesson will be on your calendar. You will not see additional repeating lessons.

Once your student confirms or declines, you will receive an email. The email will include any dates that could not be confirmed due to student conflicts. You will also see all confirmed reservations on your calendar.
---
Following Up
If you enjoyed class with the student after your first lesson, it's always a good idea to take the time and send them a message afterwards. This message shows the student that you genuinely enjoyed the lesson with them, and can encourage them to book with you again! You can keep it as general or personalized as you'd like.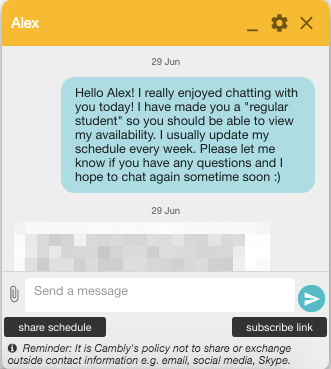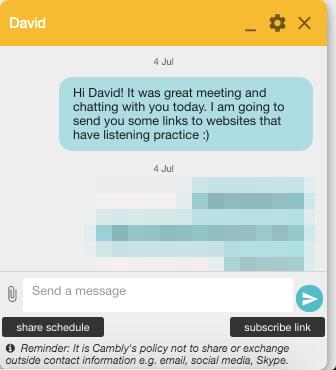 You also have the option to share your schedule with the student to encourage them to book another lesson with you. Simply click "share schedule" once you open the message box with the student and it will send them a link to your schedule.
---
Syncing Your Calendar
The more you begin building up your base of regulars, the busier you may be. For those of you looking to stay organized and sync your Cambly schedule with your personal calendar, we're here to help! Check out the article Sync Your Calendar for instructions on how to sync your Cambly schedule with your personal calendar!