In this article:
Free Trial and New Students
We give new students a short free trial to make sure Cambly works for them. New students are sometimes surprised when a real person actually answers on Cambly! Sometimes their first reaction is to quickly hang up, so don't be offended. Usually, they build up confidence and call back again.
Some first-time students are really shy. They may cover the camera and not say anything or they may point the camera at the ceiling. You should patiently try to engage them in conversation. Start introducing yourself and telling them a bit about yourself. Ask them a few simple questions. Usually, shy students will get over it and begin talking to you.
If after a minute or so there is no improvement, you have the option to very politely say goodbye and hang up. In this scenario, please select the "refund lesson" button so that the student is able to call back when they are ready. For example: "I'd love to help you, but you should come back when you are ready to practice." Then smile and wave goodbye.
Sometimes, you may encounter a student who has very little English knowledge. If you're multilingual, go ahead and see if you have a common language. A lot of times, students have some basic English skills but are still working on their confidence. A common phrase you'll hear is: "I don't speak English" even from students who actually can speak a little. We understand these students can be the most challenging to tutor, but with plenty of patience, the tutor is sure to build a great rapport! Check out this article for more help with working with beginners.
*NEW* Free Trial Student Feedback
During a Free Trial call, you are able to complete a brief, 3 question prompt that provides feedback for the student.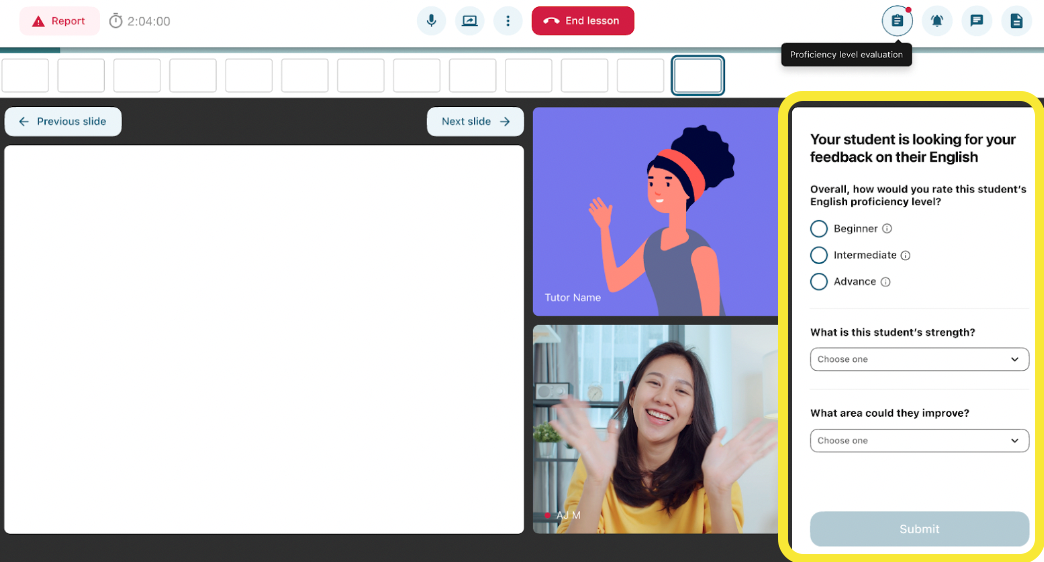 To navigate away from and back to the feedback questions, please use the newly added Quick Action button above the prompt.

Shortly after the lesson has ended, Cambly will send an email to the Free Trial student. An example of an email can be seen here: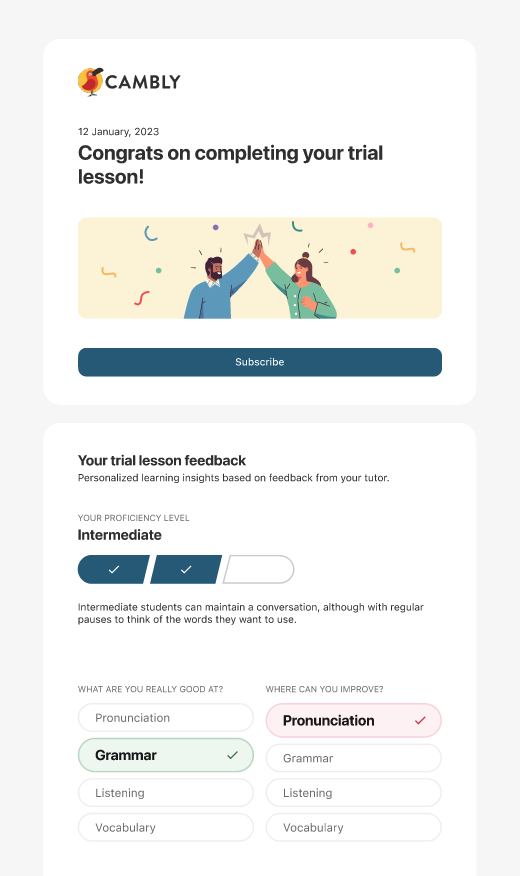 Students often look to tutors, the experts, to figure out their level and where to begin on their Cambly journey. Because tutors often take the time to message students with feedback after free trial calls, the hope is that this addition benefits you and Free Trial students!
If you experience a lesson in which you are unsure of the answers to the questions or are uncomfortable completing the questions, simply leave them blank.
All Students
The best way to help a student is to understand their learning goals and needs. In addition to checking out their Cambly profile for an overview of their learning needs, you can also ask the student directly, in case their goals changed. Periodically checking with students on how they doing and how they are liking the lessons is a great way to gather feedback on how you can improve and cater the lesson for their specific needs!
Sharing Materials
There are several ways to send content to your students on Cambly. Before or after a chat, you can send any links or attachments via the Cambly messaging system. You can paste links from published online resources or upload your own files to a cloud service (e.g. Google Docs, Dropbox, etc.) and share a public link with your students.
Prior to a chat, you can also upload your own lessons to Saved Links (be sure to upload an image file as well; this will be the thumbnail image that is shown to all tutors along with the title).
During a chat, you have a few more options:
You can send links via the text chat box
You can send an article in Saved Links by accessing your Cambly Library
You can also screen-share. This allows you to work with materials displayed on your computer screen.
How to screen-share:
Click the screen-share button in the top right corner of the classroom. A window will pop up on your screen. You will be able to select which screen you want to share: your entire screen, an application window, or a Chrome tab. If you are sharing an article or something from another website, you can select "Chrome Tab" and your current open tabs will show underneath. From there, select the tab which you would like to share with your student.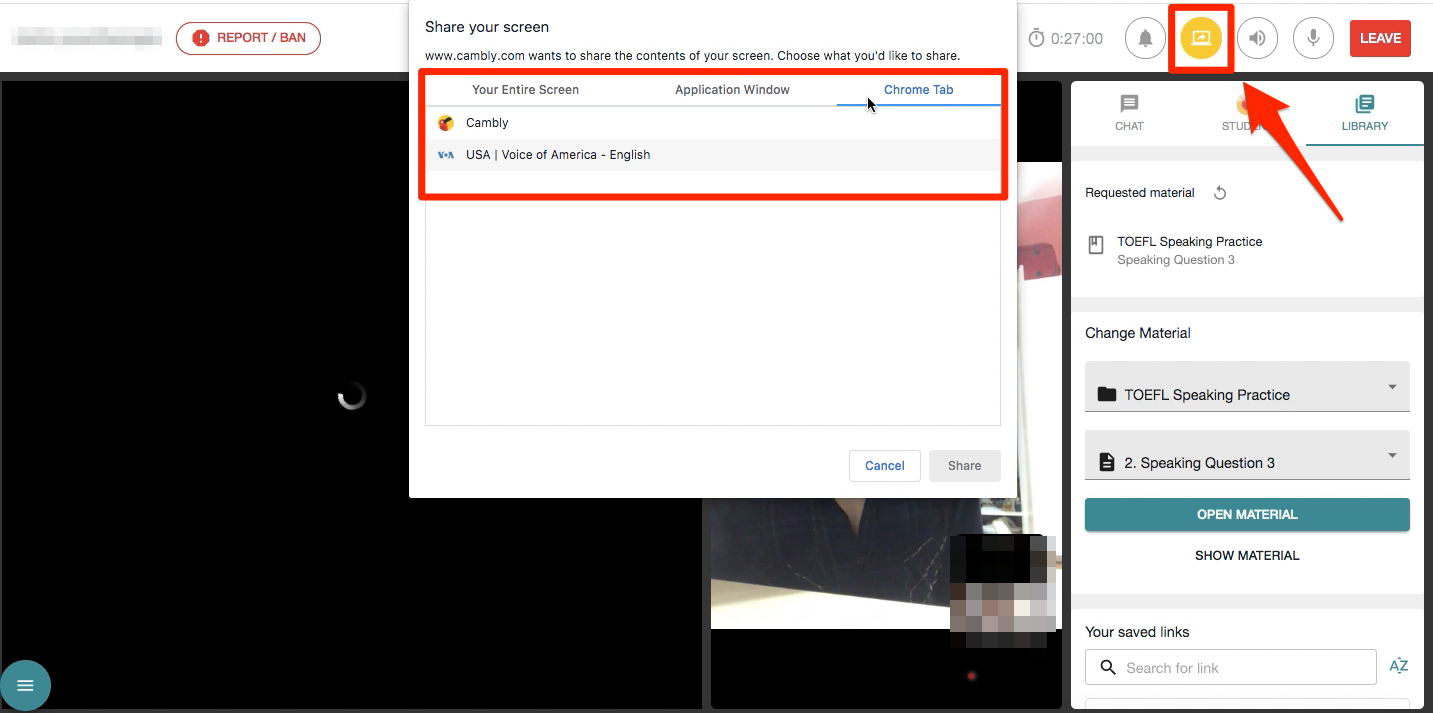 If your students want to share something, such as their writing or resume, they can do it in two ways:

1) If they're on their computer, students can send the paragraphs over text chat or send a link to a shared document. This is the best way since they'll have a nice big screen to see both you and the text chat concurrently. Plus, it's just much easier to work with large bodies of text on a computer than on a phone.

2) If they're on mobile, you should ask students to message you the paragraphs and call you right back. If it's a long document, they can even add it as an attachment. That way, you can pull it up on your computer and have it ready for your session.
Check out Joel's tutorial on how to share your screen in the video below!
Quick Action Buttons
The purpose of Quick Actions is to allow tutors easy access to a number of commands. You will see all or some of these commands depending on whether or not you are tutoring a Cambly Course. Please note that these quick actions buttons will only appear in Cambly Courses, not Cambly Kids Courses.
Clear - Clears drawings on current lesson slide
Change Lesson - Opens lesson tab in menu on the right
Whiteboard - Opens whiteboard lesson plan
<Lesson_name>/Hide Lesson - Shows or hides all materials relating to the lesson
Share Screen - Starts screen sharing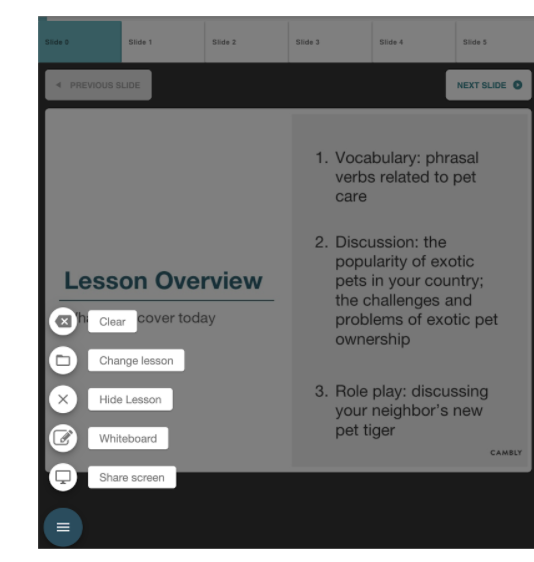 Tutor Slides
Tutor Slides are available in select lessons. They allow you to see a slightly different view that is entirely invisible to your student. Their purpose is to give you information, secret prompts, messages, and educational content that the students can't see, which will make it easier to isolate learning practice or play a guessing game!
A Tutor Slide may provide you with:
An answer key

Optional guiding questions

New game opportunities

New ways to practice your students' listening skills
When a Tutor Slide is part of your student's lesson, the Tutor Slide will appear to you by default. You will know you are viewing a Tutor Slide by the white box with a red border that reads either "TUTOR SLIDE" or "TUTOR HELP." Pictured below are examples of the tutor view and the student view.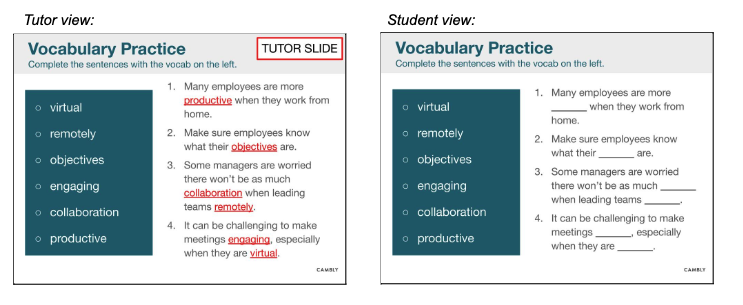 You can turn a Tutor Slide on or off by clicking the blue button in the bottom left-hand corner and selecting the graduation cap icon. This graduation cap allows you to switch back and forth between the tutor and student views during a lesson.

For any additional questions, please check out our FAQ below:
Why don't I see Tutor Slides in my lesson?
Not all lessons have Tutor Slides. In fact, very few lessons will have Tutor Slides starting out! That said, as new courses are released, you will start seeing Tutor Slides more and more!
I had a Cambly Kids student enrolled in Beginning English 2, why didn't I see the Tutor Slides?
Students enrolled in Beginning English 2 prior to June 2nd, 2022 will NOT see Tutor Slides. Students currently enrolled in Beginning English 2 will not be migrated to the new course. Tutors will see the Tutor Slides option in the Beginning English 2 course when students advance from Beginning English 1 to Beginning English 2 after June 2nd, 2022 and new Cambly Kids users who start with Beginning English 2 as their first course after June 2nd, 2022.
Will Tutor Slides be available for every slide in the course?
No, some slides in a course with Tutor Slides may have this option while others may not.
What if I don't want to see the Tutor Slide?
Simply click the graduation cap to hide the tutor view and see the student slide!
Can I switch back and forth during a lesson?
Yes! Anytime there is a Tutor Slide available, you can use the graduation cap icon to switch between the student slide and tutor slide as often as you'd like.
Am I able to preview the Tutor Slides before the lesson?
Wherever you can preview courses, you are now able to preview the Tutor Slides within the courses that support them. You will know if a slide has a Tutor Slide by the toggle in the bottom left corner, and you can toggle back and forth while previewing that slide.
For Cambly Classics, this means you can preview the Tutor Slides while browsing the Library or previewing a student's enrolled courses.

For Cambly Kids, this means you can preview the Tutor Slides while viewing a student's enrolled courses through the student's account.
Taking a Break / Logging Off Early
If you're on a Priority Hour, you have the option to take a 5-minute break. Simply click the green pause button in the top right of the PH listing in your dashboard to take a five-minute break once during every Priority Hour!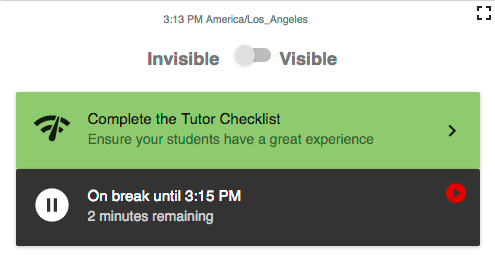 If you have some sort of emergency and need to end your Priority Hour early, no problem! Our system is designed to overlook one-off misses. If you have more PHs coming up that you will not be able to make, be sure to remove them from your schedule ASAP. Read the Priority Hours section of the Tutor Guide for more information about our PH system.
Please note that even though you can't tutor from your device, you can do pretty much everything else using your mobile browser (dropping Priority Hours, checking reservations, etc.)!