Cambly Kids Platform
How do I access the Cambly Kids platform?
Cambly and Cambly Kids use the same platform. Whether you have a Cambly or Cambly Kids reservation, the call will come through to your Cambly dashboard. All you need to do is log in to Cambly and you are all set!
Where can I see the entire Cambly Kids Curriculum?
Where can I connect with other Cambly Kids Tutors?
To help facilitate the sharing of resources, tips, successes and lessons, we've created a special Cambly-Kids-Tutors-only Facebook Group called Cambly Kids Corner. You can request to join Cambly Kids Corner here: https://www.facebook.com/groups/camblykidscorner
Do I use the same profile picture for Cambly and Cambly Kids?
Yes! Your profile picture is for Cambly and Cambly Kids. If you are tutoring on both platforms, it's best to use a picture that is professional, yet kid-friendly as well. Please see this article for some examples of headshots, or this article for some ideas that are fun and kid-friendly!
Where do I see my ratings on Cambly Kids?
Currently, there are no ratings for Cambly Kids just yet as we are still growing and building out the platform. If you would like feedback on your tutoring sessions with Cambly Kids, please submit a ticket with this request and our Tutor Guidance team will reach out!
Cambly Kids Lessons
Do I have to complete the entire 30-minute reservation?
Yes, both parents and kids expect 30-minute lessons, and tutors shouldn't end their Cambly Kids reservations early. We understand that back-to-back reservations can be tiring, so we highly encourage tutors to schedule breaks in between lessons!
For instance, you can work for 30 minutes, an hour or more and put a break within your schedule as shown below. A break can really help you recharge and get ready for your next lesson! :)
Here is an example of how you can open your schedule to allow for some breaks in between your lessons: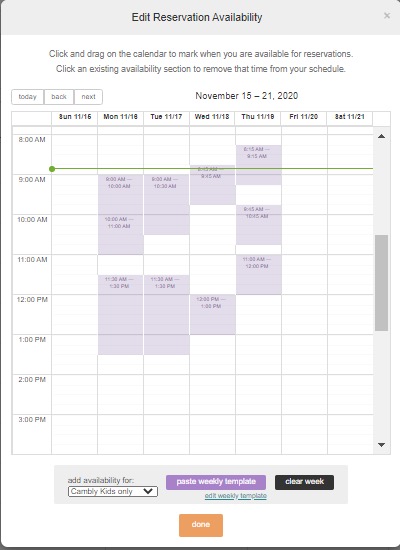 We completed the lesson in less than 30 minutes, now what?
If you complete the material before the reservation ends, you can play games, engage in a free conversation, read books, etc. Here is a list of Cambly Kids resources you can use!
My student called late, there were connection issues or I had an emergency and we ended in less than 30 minutes. Can they use the remaining minutes later?
Unlike Classic, if a lesson ends early for any reason, the student will not have access to the remaining minutes. If the issue was caused by a tutor connection issue or emergency, please have your student contact Student Support for assistance with this issue.
Help! My student's level is too low or too high! What can I do?
If your student is in a Cambly Kids curriculum that is too low or too high, please submit a ticket to Tutor Support with the student's Account ID and the curriculum level you would like to move them to. As a best practice, is it always wise to confirm this suggested change with parents first, so that they are aware of the change and are in agreement.
What if my student is almost native level?
On Cambly Kids, you will encounter some students who are more advanced than the most advanced curriculum. For cases like this one, it's best to contact the parents to see how they would like to proceed. There are a few options you can discuss with the parents:
Move the student to Classic Cambly Lessons

Find free online reading materials or lessons to use with your student

Teach materials/lessons that the parents send you

Have free talk with your student
My student is a true beginner and below the lowest CK curriculum. What do I do?
If your student has no experience with English and the lowest curriculum is too hard for them, you can try the following to engage with the student:
Whiteboard (draw letters, numbers, etc)

Flashcards (alphabets, numbers, animals, etc.)

Props (Plastic letters, numbers, veggies, fruit, etc.)

Songs (Itsy, bitsy spider, alphabet song, etc.)
Working With Children & Parents
What if I don't want to teach young kids or beginners on Cambly Kids?
Because Cambly Kids is a platform for children, most students will be beginners and some will be young kids. If you are uncomfortable with tutoring kids, you can still tutor adults with us on the normal Cambly platform!
Can I hide/ban a kid if they are not a good fit?
Please do not hide/ban a child in the middle of a session! It's possible that the child won't understand why you suddenly disappeared from Cambly Kids and they may be confused or upset. Remember, kids can have off days, and due to their immaturity and inability to self-regulate and manage their emotions, it can affect their performance in class.
Cambly Kids tutors should have the skills to be able to adapt to this kind of situation as it can happen often. If you want to hide your profile from a Cambly Kids student, we highly encourage Cambly Kids tutors to talk to the parents first via the Cambly messaging system. You can politely explain that you will no longer be able to accept reservations from them.
What if the child won't participate, is unruly or is disrespectful?
We totally understand that sometimes lessons may not go the way tutors expect if students misbehave. As Cambly Kids students are children, it is understandable that they could get easily distracted and refuse to participate.
It is up to the tutor to utilize different classroom management strategies and teaching methods to encourage a student who may be having a hard time focusing, participating, or who (for privacy and safety reasons) choose not to turn on their camera. Click here to see some suggestions on how to handle these situations. Please be mindful that each student is unique, so one method may not work for all students.


| | |
| --- | --- |
| Note: While it may be tempting to just continue on with the lesson without the student's participation or attention, we highly discourage this as it is often the students who are able to engage and have a direct conversation with their tutor that have the most success on Cambly. | |
What if the child is emotional or crying for reasons outside of our lesson?
First, we are really sorry to hear that your student is crying. As fellow educators, we know that seeing students cry can be heartbreaking. If it happens during your lesson, we encourage you to find creative ways to comfort them, cheer them up and help them calm down.
If they calm down, you can try to engage them by resuming the lesson. If they continue to be upset, it might be best to stop the lesson, contact the parent to let them know what happened, and let Tutor Support know so we can have the student work on the lesson next time.
What if there is more than one student in my class?
Most Cambly Kids lessons are 1:1. On the rare occasion, parents will have siblings or more than one child take the lesson at the same time. This shouldn't be an issue if the children are on the same level and can be double or triple the fun!
We totally understand if you are uncomfortable teaching more than one child at a time. You can politely message the parents and let them know that you prefer to only tutor one child at a time to deliver an effective English lesson!
What if the parents give me other material or lessons that they want me to use with their child?
Sometimes parents have outside material (reading material, lessons, homework etc.) they would like tutors to use with their child. If you are comfortable doing so, you can certainly use outside materials to tutor the child. If you are not comfortable tutoring outside material, then you can politely inform the parent and they can decide if they want to find another tutor or continue to work with you using the Cambly Kids Curriculum.
The parent continues to answer for their kid or attempts to "teach" the child. How do I manage this situation?
Parents can be overly eager for their child to learn English at times so they will "assist" their child with the answers. If that happens, here are a couple of examples you can use for the parents:
Great job Mom/Dad! Now, ____, what's your answer? ____,

I heard Mommy/Daddy, now I would like to hear from you.

Two stars (instead of one) for answering the question yourself!
You can also send them a message similar to this:
Hello Mom/Dad! I can see how eager you are for your child to learn English and I feel honored that you have trusted me with teaching them. I really appreciate you wanting to assist your child during the lessons! However, for your child to get the most out of their classes, it would be best if you allowed them to focus on me during the lessons and answer the questions for themselves. That way, I can see if they are learning the material and if I need to review anything before the next lesson. Thanks so much!
I think a child is being abused or harming themselves, is there anything I can do to get them help?
As an English tutoring platform, we're not qualified to recommend any approach of action when it comes to self-harm, domestic violence, etc. As you might imagine, because Cambly works with students from all around the world, many of our students live in countries with significant cultural and legal differences compared to Western countries.
Often when working with people from different cultures, we find that the institutions we rely on in Western countries may either not exist or may operate in different ways. We are not in a position to provide help and might inadvertently cause harm. Cambly's policy, however, is that we comply and support any legal or law enforcement investigations if it comes to that.