Currently, tutors are unable to view the individual ratings a student leaves. We understand that having student feedback could help even the most experienced tutors to improve.
You can now feature a student's feedback on your Tutor Profile! This is a great way to showcase the positive feedback students have left you in order to attract new students.
You can find your Testimonials by going to the Profile Tab and scrolling down: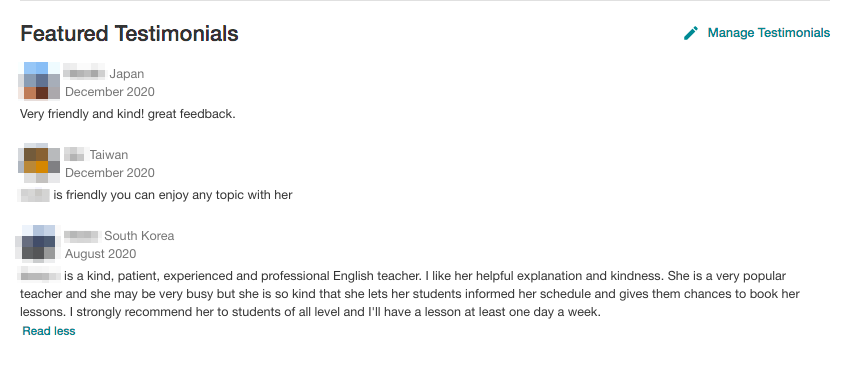 Does every student leave feedback?
Currently, this is an optional feature for students. Students are not required to leave this feedback for their tutors.
How will I know if I receive feedback?
When a student leaves you feedback, it will appear under the 'Testimonial' section on your Profile Tab. You can then feature it to your profile!
Why haven't I received any feedback?
Normally, if you don't see any, it's because your students have not left any feedback on your account yet. Please note that the feedback is only taken from recent reviews since the new update took place, so don't worry, we are sure you will receive plenty more as you meet more students on Cambly! :)

How long does it take to receive feedback?
If a student chooses to leave feedback, it will be reviewed and can take up to a month to become available to view on your profile, so if your student tells you they left feedback and you cannot see it yet, don't worry!
How many testimonials can I feature on my profile?
Currently, tutors can feature up to 4 testimonials on their public profile!