In This Article:
Cancelling A Reservation
We encourage tutors to cancel or confirm reservations at least 12 hours in advance. If you have not confirmed your reservation within 12 hours of the start time, we automatically cancel it. We do this because we want to give the student enough time to find an available tutor. Our system promotes reliable tutors to students.
What if I need to cancel last minute?
We highly encourage you to cancel or confirm reservations sooner rather than later, but we understand that emergencies happen! Cancelling too many reservations short-notice will result in your schedule being restricted to "regulars only" for 7 days. If you need to cancel your class, please refrain from asking your student to make the cancellation. If you are not able to access your desktop, you can cancel your lesson through the Cambly application on your phone.
What if my student cancels last minute?
Students are also allowed to cancel just as tutors are, and are encouraged to cancel with plenty of notice for the tutor. If a student cancels a reservation 8 hours or less before the scheduled lesson, then the tutor will receive a $2 miscellaneous credit which is applied directly to the tutor's balance. Please note that tutors are not given a credit if the student cannot stay connected. If you would still like to have a lesson during that slot of time, we recommend you switch to "visible" and take any incoming calls! You can read more about the late student cancellation payment here.
What if the student asks me to cancel the class?
A student might ask the tutor if they can cancel the class. The tutor can cancel the class if the student requests another time. As long as the tutor cancels within 12 hours of the start time, there is no penalty, however we do encourage the tutor to let the student cancel the class if the student is not able to make it. If the student requests that you cancel the class last-minute and wants to change the time of the lesson, you can select "My student requested another time" and simply reschedule the lesson with them.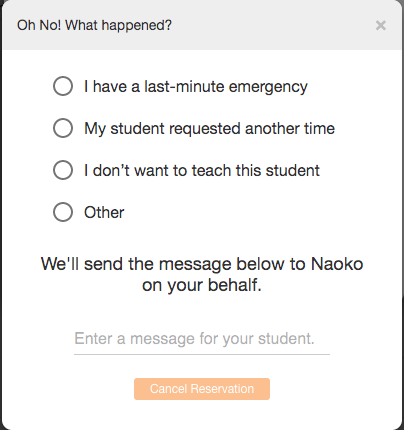 Dropping/Missing A Priority Hour
Priority Hours must be cancelled over 12 hours in advance. This gives other tutors enough time to pick up the Priority Hour. However, if your Priority Hour is within 12 hours but you no longer can make it, it is better to drop your Priority Hour late than to simply miss that Hour. Dropping a Priority Hour late will hurt your Priority Hour access, but missing your Priority Hour will hurt your access significantly more.
If your PH was somehow released, you will still be paid for every minute you chatted with students on Cambly. However, you may miss out on the guaranteed minutes that we provide for tutors who complete PHs successfully. You can confirm this by checking out your Chat History.
Why was I blocked?
Cambly's system automatically blocks tutors from Priority Hours for a period of three days if they miss multiple recent PHs or release too many within 12 hours of their scheduled start time. We will email you directly if you are blocked (if you haven't been blocked but just don't see many PHs, then check out this article for more information). This temporary block isn't meant as a punishment, but rather a way to allow the system to adjust to the needs of our students.
We completely understand when even tutors with the best attendance miss Priority Hours due to things that are out of their control. That's why we bake in some leeway before the system blocks any tutors. Given that we do offer this leeway, it's our policy not to remove PH blocks for any reason.
Please note, in the event of a Cambly-wide outage (see Cambly's status page here: status.cambly.com), please do submit a request so we can restore any affected Priority Hours right away.
What do I do now?
After three days, PH access is automatically restored. In the meantime, you are welcome to tutor on-demand (that is, without a Priority Hour)!
For future reference, you can also drop Priority Hours from your phone or other device if you can't access your computer.
No-show Reservation (student or tutor)
Student:
You are only required to wait for 10 minutes after the scheduled start time and you will be automatically paid for the 10 minutes that you wait.
While you're waiting for those 10 minutes, you're also welcome to answer other calls that come in. We will alert you 1 minute before your reservation start time, so you can begin wrapping up your current session. Then we alert you again when your reserved student calls in, allowing you to transition directly into the next call with one click.
If your reserved student doesn't show up at all, then no problem, you get to continue working with your current student. We will also credit your account with the 10-minute no-show credit in this case. If you are on Priority Hour, you should accept all calls directed to you. However, you will still receive a ten minute credit for any no-show reservation students. You can find a history of your miscellaneous credits on your account page here.
Tutor:
If you as the tutor cannot make the reservation, we highly recommend cancelling it, even if it's less than 12 hours in advance. This will allow some time for the student to find another tutor. If you are unable to cancel and are a no-show, as soon as you are able, please notify your students and clear your schedule until you can return.
If a tutor misses or cancels a few reservations though, their reservations will be restricted to Regulars Only for 7 days. If your reservations have been restricted, it will be wise to make sure your regulars are actually categorized as regulars on the system. To make a student a regular, please go to the student's homepage (for example, click on their username in your Call Log) and click on the switch next to "Regular Student." Check out this article for more information.
Returning Student Lessons *NEW*
Please note: The Returning Student Lessons feature is actively being rolled out to tutors. If you do not see this option yet, it is because it has not made its way to you quite yet. Keep an eye out for the option soon!
What is the Return Student Lesson option?
If for any reason you find yourself in a call that you are unable or unwilling to complete, you will be able to leave the lesson within the first two minutes without cost to the student. When this option is available, you will see an "END OR RETURN LESSON" button as pictured here:

When you click this button, you will receive two options: End lesson and End lesson and return minutes.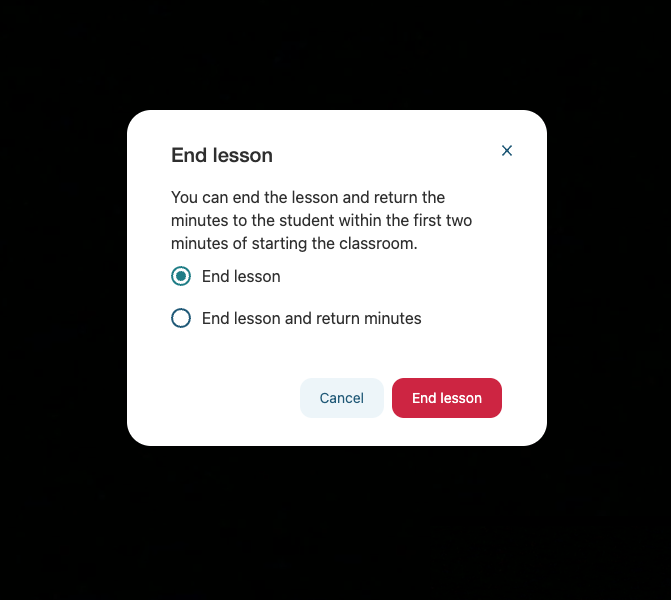 Selecting End lesson and return minutes will refund the entire lesson to the student. Prior to leaving the call, it is best practice to kindly let the student know you cannot complete the call, and that their lesson will be refunded to them. They will also receive an email letting them know the lesson was returned.
When tutors select the End lesson and return minutes option, tutors do not receive payment for those 0-2 minutes. If you know ahead of time that you will not be able to complete the call, please use the new "decline" button prior to answering the call. You can learn more about the new decline button in here.
If a tutor opts to return the lesson to the student, ratings will not be counted toward tutors' overall rating.
When your call surpasses 2 minutes and this option is no longer available to you, the button will simply read "END LESSON" as pictured below.

In the rare case a student calls you with a 2 minute (or less) lesson and the lesson is completed, instead of returning the lesson to the student, you should select "End Lesson". You can also continue to use the End Lesson button if you are leaving the call and planning to immediately rejoin (e.g. solving a device issue, switching devices, etc.)
Return Lesson Option FAQs
I am receiving a 30-minute call, but I only have 20 minutes available, should I answer the call?
No, in this case, please click the "decline" button. You should only answer calls you intend to tutor fully. If you happen to answer the call out of habit or by accident, please kindly let the student know you are unable to complete the lesson request, and that their lesson will be refunded to them. Then, click the "end or return lesson" button and select "end lesson and return minutes."
If I want to leave the classroom and quickly return to it to solve a tech issue, what do I do now?
Do the same thing you always have! This button gives you an additional function but does not remove any existing operations. Simply select the "End lesson" option, and rejoining the call will work the same as it always has.
If a student hangs up after one minute, do I still get paid?

Yes, payment will work exactly as it always has if the student decides to end the call. The only change in tutor payment is specifically if the tutor chooses to select "End lesson and return minutes" within the first two minutes of the class.
How often can I end lessons within the first 2 minutes?
Try to use this new feature sparingly. In most cases, tutors should strive never to leave a call mid-lesson. Despite this, we understand things happen, and occasionally you may need to leave a lesson within the first 2 minutes.
I do not want to teach children on Classic Cambly, can I use this new "End lesson and return minutes" feature when a child calls me?
Yes. While Cambly encourages tutors to teach everyone who calls them, it is acceptable in this situation to very tactfully let the student know you cannot complete the call, that Cambly will return their lesson, and to select "End lesson and return minutes".
Pro Tip:To maximize your minutes chatting, we recommend having just one prepared child's lesson on Classic Cambly. You can complete the lesson and then hide from the student if you don't wish to receive more calls.