Now that you've created your account, you are ready to complete your profile! There are 3-steps to the process.
You can watch the video below for a step-by-step walkthrough of filling out your Tutor Profile, or scroll down to read more tips on how to create the best profile!
1. Make a catchy introduction video
The first step of completing your Cambly Tutor profile is uploading an introduction video! This video is watched by our tutor reviewing team to learn more about you and your tutoring style! Once you are a tutor, this video will also be what our students see when choosing the right tutor. Read our tips on making the most of your introduction video below:
Length

: We recommend recording a 1-3 minute introduction video. If your video is too short, you will be asked to re-record a new one. Utilize this 1-3 minutes to talk about your experience, show off your personality, and talk about what a class with you would be like!
Dress code: Please follow the dress code while recording your video. For introduction videos, we don't allow hats, sunglasses, or exposure of shoulders. We don't expect you to wear a suit and tie! You are allowed to dress casually keeping in mind the dress code policies.

Video quality

: Before submitting your profile, we recommend rewatching your video to ensure it's up to standard quality. If your video is blurry, grainy, lagging or without audio, you will be asked to re-record the video.

Lighting

: Please record your video with optimal lighting, making sure that we can see your smiling face! We recommend positioning yourself with a window in front of you, not behind you, to avoid creating a silhouette of yourself. If you don't have any windows, please position yourself in a well-lit area, possibly with a lamp situated somewhere in front of you.
Audio: While recording your video, please speak clearly, while ensuring that there are no background noises that could be distracting. We recommend finding a quiet room to record your video from!
Show off your personality: We recommend speaking clearly, smiling, and showing off your personality. Don't be afraid to get enthusiastic! Scripts can be helpful, but it is best to be spontaneous and natural while speaking directly to the camera. Students watch the tutors' introduction videos while trying to select one, so give them the best of you :)
Privacy Policy: Some tutors show off their creativity by adding captions, graphics, photos or music to their videos. While editing your video, please do not include photos of any other person besides yourself, in order to protect their privacy. We also ask that any logos for other companies be removed from your background before recording your video. If you add your teaching certificates or diplomas to your introduction video, please be sure to cover your full name in order to protect your privacy outside of the Cambly platform.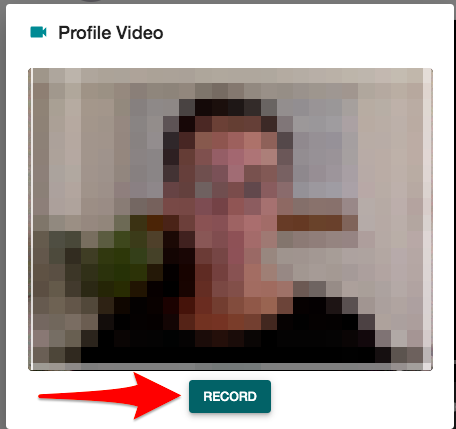 Here is an example of a profile video!
Once you have recorded a video that you are satisfied with and that meets our requirements, you are ready to submit your profile, yay!
2. Create an outstanding profile
Your tutor profile is an opportunity to market yourself! Please take your time as you fill out your tutor profile, being mindful of your use of the English language (we are an English-learning platform after all!).
Basic Info: Select a display name (please refrain from using your full name for privacy purposes), your dialect, and your date of birth. Your date of birth will not be visible to students. The flag displayed will represent your dialect/accent in order for students to easily find a tutor who meets their needs.
Profile picture: When choosing your profile picture, please keep it professional. We recommend a clear headshot with a tidy background. Please be sure to follow our dress code, (no hats unless it's religious headwear, no sunglasses, shoulders should be covered). There should be no animals or other people in your profile photo. If your profile goes against our policies, it will be removed and you will be asked to upload a new one. Check out this article for more information: https://cambly.zendesk.com/hc/en-us/articles/115004177266-Your-Tutor-Profile

Introduction:

Your introduction will be the first thing students read about you when searching for a tutor, so feel free to market yourself in a tactful way to attract students!
Teaching Style: Do you prefer working with beginners? Are you kind and patient, scholarly and knowledgeable, or fun and gregarious? Your teaching style gives you the opportunity to provide details of what students can expect from you in a lesson!
About Me: This section allows you to expand more on your introduction. Feel free to include cool talents, unique hobbies and interests, or anything that will make a student say "Wow, I want to book a lesson with this tutor!"
Languages: Cambly requires all tutors to be native English speakers. There are many different accents and dialects in the English language, so please choose which one best fits you! If you speak other languages, you may also add this to your profile to help attract more students.
Work Experience & Education: Feel free to share all relevant experience you have that would make you a great Cambly tutor! Keep in mind that no degree or teaching experience is required, but if you have any other experience that could be helpful, include it! If you do have a Teaching Certificate, there is an option to upload it. Please note that this will not be visible to students in order to protect tutors' privacy.
Supplemental Questions
Why do you want to teach on Cambly? This portion will only be shared with your tutor reviewing team. Please take time to fill this part out, and tell us what compels you to work with English-learning students from around the world, as well as how you heard about Cambly!
Privacy Policy
When creating your account, please refrain from using your full name as your username or display name in order to protect your privacy outside of Cambly. Many tutors choose to make their display names 'Teacher ____' or 'Tutor _____', so please feel free to do this! Also, please do not include any links or usernames to your social media sites or external websites as this goes against Cambly's privacy policy.
Please make sure that you fill out every single box, leaving nothing empty or blank! If you are having trouble moving to the last step of uploading your profile video, it most likely means that you accidentally left something blank, so take a thorough second look!
3. Pass the internet connection test
Having a stable internet connection is paramount to tutoring on Cambly, as students rely on hearing and seeing their tutors to learn English! The first step in completing your profile is to pass the internet connection test. These are our recommendations for minimum internet speeds:
Download = 10Mbps
Upload = 3Mbps
You will not be able to submit your profile until you have successfully passed it. If you're having issues, please check out the following article: https://cambly.zendesk.com/hc/en-us/articles/360043588992-Have-a-tech-issue-Click-here-to-find-the-solution-
I've completed my profile! Now what?
Congrats! After completing your profile, it will be under review. It may take anywhere from 1 day to a few months before your profile is reviewed for tutoring; this depends on the needs of our student base. We are careful to protect our current tutors by not onboarding too many new tutors until we have the demand for them. That way, once accepted, you can be sure to have plenty of calls and students when you start your tutoring career. If you are a good fit, you will receive an e-mail from us welcoming you onboard :)