Welcome to Part 4 of the Cambly Kids Tutor Guide!

By now, you should know the basics of the Cambly platform, how to navigate the Cambly Kids Curriculum, and how to set up a kid-friendly profile and workstation. In this section, we'll go over how to book reservations so that you can start meeting with students!

Cambly Kids Reservations

Cambly does not actually assign classes to our tutors. Instead, parents make reservations directly based on a combination of your tutor profile and your schedule. We recommend making yourself available for at least 20 hours a week, especially when starting out, to increase the likelihood of finding regular students! Parents look for consistent and generous availability. The more spots you open on your calendar, the more likely you will be booked!

How do I set my availability?
Click the

Reservations

tab

Click the "edit" button next to My Reservation Availability

Click and drag on the calendar to mark when you are available for reservations. You can add availability for "anyone", just your regular students, or just for kids.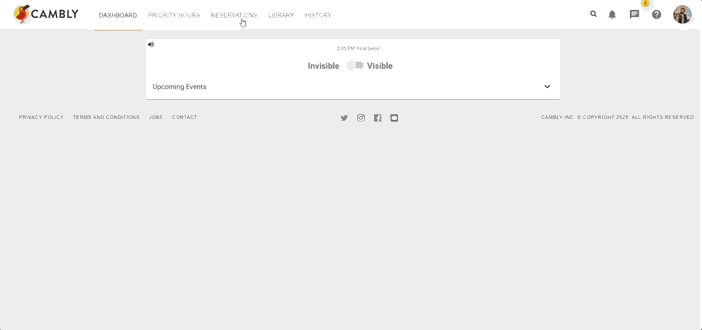 How do I add a student as a regular?

Click on their name in either the History or Messages page, then toggle "Regular Student." You can view all of your regular students on your History page.
| | |
| --- | --- |
| | Pro Tip: Setting aside some of your availability just for regulars is a great way to add some consistency to your schedule! It is also a great way to limit your schedule if you find that you need to take a break from meeting new students but would still like to meet with those you're already comfortable with. |

Scheduling Tips

Cambly Kids has students from all over the world! While this does offer our tutors quite a bit of flexibility, we have noticed some time slots are much more popular than others. Peak times are 8 UTC - 15 UTC, with weekends in high demand! Opening your schedule during peak times will greatly increase your chances of being booked!

Pro Tip:

You can use

World Time Buddy

to match these to your time zone. At the top left corner you'll see a field where you can input time zones. Add both the UTC time zone as well as your own and you'll be able to match them to convert the UTC time to your local time!

As you build your schedule, be sure to add in breaks for yourself to make sure that you have time to prepare yourself in between students. Cambly sessions last the entire 30 minutes and if you schedule classes back-to-back, you will not have any time in between sessions so make sure you plan accordingly!


For more tips on how to optimize your schedule, watch this video made by Cambly Tutor Meagan:

Reservation FAQs

For your convenience, we compiled these frequently asked questions about reservations:
What if my student doesn't show up for their reservation?
We send multiple email reminders to students in regards to their upcoming reservations. No-shows are handled the same as with our adults students on the regular Cambly platform. If your student is late, you are only required to wait for 10 minutes after the scheduled start time. If the student doesn't show up, you will be paid $2.00 for these 10 minutes. We encourage you to message the student with a note as a reminder for their upcoming class. Many tutors have found this helps reduce the number of tardiness and no-shows they experience.
What if my student cancels last-minute?
If a student cancels a CK reservation 12 hours or less before the scheduled lesson, then the tutor will receive a $2 miscellaneous credit which is applied directly to the tutor's balance. Please note that tutors are not given a credit if the student cannot stay connected.
What if my student is late?
We hope every kid shows-up on time, but if a student is late then it all depends on you and your schedule! If you're free to continue, that's definitely the best option. If, however, you have a back-to-back reservation, please be sure that you make it to your next reservation on time. This means that you'll have to end your current class at the scheduled time in order to make it to your next one, even if your current student has minutes left.

If you're likely going to have to end before the student's minutes are fully used up, it's usually best to tactfully explain that at the start of the lesson, if possible, or to message the parent. Please remember that you are only paid for the number of minutes chatted, so if a student is consistently late you can send them a polite message reminding them to show up to their lessons on time.
What if I need to cancel?
We understand emergencies and one-off misses happen to everyone. Our system will forgive a few missed or late cancelled reservations automatically. The amount of allowable missed reservations is based on the number of completed reservations over the last 10 days.

For example, if you have completed more than 60 reservations in the last 10 days, the system will forgive you for up to 3 missed reservations. If you miss a fourth reservation, the system will automatically convert your calendar availability for 7 days to the students you've made regular students. This means that while you will still be able to complete your upcoming reservations, new Cambly Kids students will not be able to book reservations with you.


We highly recommend that you do not cancel within 12 hours or be late to a Kids reservation, as it will prevent them from connecting with another tutor that day. Be mindful that when a parent makes a Cambly Kids reservation, they generally set aside their own time plus their child's time to be there with you. If you're frequently late or you cancel multiple Cambly Kids reservations, then you may be removed from the Cambly Kids program.


We are happy to work with tutors who are experiencing a special circumstance that results in missing multiple reservations. We have an amazing Tutor Support Team, made up of real Cambly tutors just like you! Please submit a support ticket to let them know your circumstances.

To cancel a reservation, you will need to go into your reservations tab, find the reservation you'd like to cancel, write a quick note to the student, and then confirm the cancellation:
Congratulations on Completing Part 4! Now that you understand our reservation system,

continue on to Part 5

of this guide to learn best practices for how to tutor on the Cambly Kids Platform!