Both the Banning and Hiding features are used to protect our tutors and ensure a safe and supportive learning environment on Cambly. In this article, we will explain when it is appropriate to use these features and when it is not okay to use these features. Please keep in mind that regardless of whether the situation warrants a 'Ban' or a 'Hide', we ask that tutors not engage any offensive student and behave professionally at all times.
Hiding From A Student
When it's appropriate to Hide Your Profile
Not every tutor and student can get along and that's okay! If you find a student is not compatible with your teaching style, politely let them know and recommend that they look for another tutor. Being upfront and direct with your student is the best way to go! Hiding from a student without any explanation may cause confusion or discourage the student from booking future lessons, so it shouldn't be your default option when you find that you aren't compatible with a student.
We recommend being courteous and respectful, and if you wish to help the student find a better suited tutor you can create a post on the Cambly Corner Facebook page and ask if other tutors would be interested in tutoring your student. Please describe your student's needs, level and what they are looking for. If you're not comfortable having those conversations, or if the student continues to call, feel free to hide your profile but again, it's usually best to communicate directly whenever possible!
When you hide yourself from a student every upcoming reservation you have with them will automatically be cancelled without any penalty. Take this into account if you have had this student for a long time! You may want to let them know you are moving on from teaching them and they can find a new tutor instead.
When it's not appropriate to Hide Your Profile:
During a call: Pressing 'Hide' during class will immediately end your call with the student with no warning, even if you (or they) are speaking.Sometimes calls don't go the way tutors hope they will, and that's okay!However, this unexpected and abrupt ending could confuse and discourage the student.If you're in class and feel you must 'Hide' your profile from the student, please end the call politely first. You can always access the student's profile (and the 'Hide from Me' button) from the 'History' tab on your account after class has finished.

Working with Cambly Ambassadors and Influencers: Cambly works with ambassadors and influencers to promote Cambly to other potential students. At times, some of these ambassadors and influencers might want to have a lesson with you and post the lesson to a social media platform, such as YouTube. Many Cambly tutors love this opportunity as this is a way for them to meet more students. However, some tutors are uncomfortable with this proposal and that is completely fine! There is no need to hide from these ambassadors and influencers. You can simply decline in a polite manner so that they can find another tutor. Please do not ban them, as banning them would disable them from accessing the Cambly platform all together.

New Students: If you haven't had a lesson with the student previously and have only communicated through the messaging system, but you no longer want to have a lesson with this student, please cancel your upcoming reservation instead of hiding from the student. An exception to this would be if the student is sending inappropriate or disparaging messages to you through the chat.
No Shows: If your student is a no show for the reservation, please send a message to them instead of immediately hiding from the student. You can say something such as: "Hi x, thank you for booking reservations with me. It looks like you didn't show up to our last three reservations. I totally understand that emergencies may happen. However, when a student doesn't show up to a lesson, tutors don't get paid the full amount for their time. For this reason, I recommend that in the future, you give your tutors a notice prior to class time or cancel using the Cambly reservation system if you cannot attend class. Also for this reason, I recommend you to look for another tutor. Thank you for considering learning English with me!"
How to hide from a student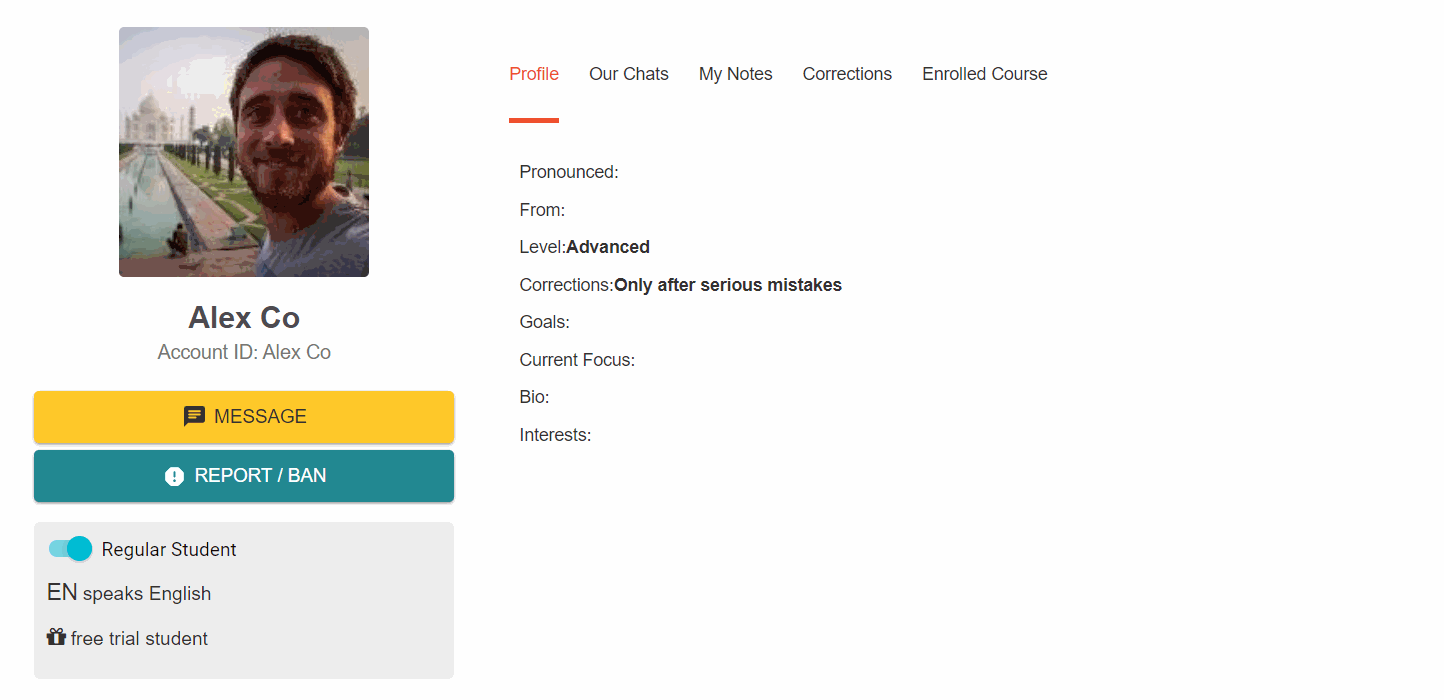 Banning A Student
When it's appropriate to Ban a Student from Cambly
We empower Cambly tutors to ban any student who creates an unsafe learning environment. If you encounter any form of harassment or offensive, inappropriate behavior, please ban the student. Banning is for grossly poor and offensive behaviors rather than tech problems, for example. Once they are banned, they are completely blocked out of their Cambly account and will no longer be able to see, call, or message any tutors on Cambly. If you feel that a student is not the best fit for you, please do not ban your student.
Please note: If you ban/report a student in the middle of a call, you will automatically be given a 10-minute break.
When it's not appropriate to Ban a Student from Cambly
If you feel like a student is going to give you a bad rating: Banned students' ratings are excluded from a tutor's rating calculation. We are aware that some tutors have intentionally banned students to avoid a bad rating. Please do not do this as banning a student would block them from using Cambly completely and interferes with the student's learning opportunities.
If you are on PH and one student is calling you multiple times: When you are on a Priority Hour, you should answer the call from the student at least once. If your student is clearly not serious, you can politely suggest that they call you back when they are ready to learn English and say goodbye. If the student continues to call you, you can either give them another chance, or you can ignore the call. Please do not ban the student right away.
All of the scenarios described in "When it's not appropriate to Hide Your Profile" also apply to banning a student on Cambly
Please note: all bans are manually reviewed by the Cambly team and Cambly will reverse bans if the situation doesn't warrant a ban. At times, Cambly will reach out to a tutor to understand the reasons for a ban. In addition, excessive banning by tutors are monitored to prevent any abuse of the system.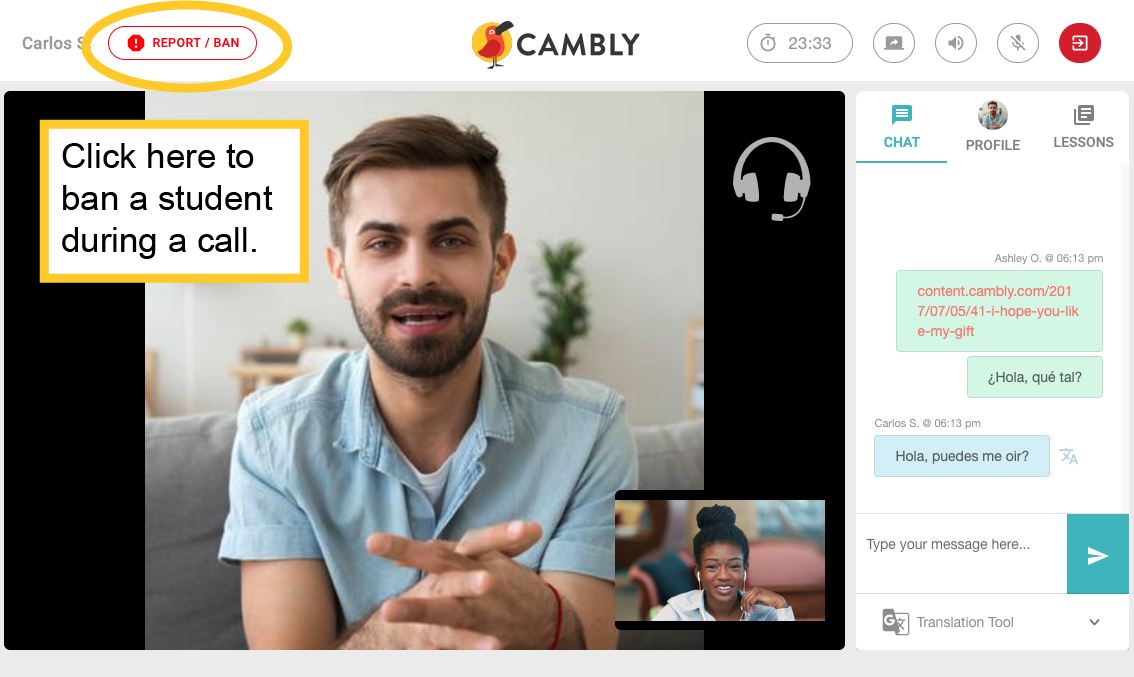 We understand this can create an unexpected and stressful environment, so if you exit the classroom without banning the student, we recommend you take the time to go back and ban them as soon as possible. This prevents the student from continuing their inappropriate behavior with another tutor. You may do this by clicking your History Tab, then clicking the student's name. You will be redirected to their profile, where you will then see the option to "Report / Ban".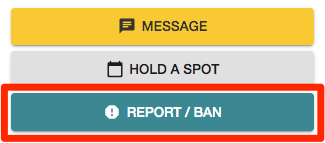 Hiding/Banning Children
Whether on Cambly or Cambly Kids, please do not hide/ban a child before talking to the parents first. More often than not, children won't understand why the tutor suddenly disappeared and they could be confused, upset or disturbed when they find out that their tutor is missing. We highly encourage tutors to talk to their parents first via the Cambly messaging system. You can politely explain that you will no longer be able to accept reservations from them, or that you do not specialize in working with children and recommend them to find another tutor. Hiding/banning is not the solution, as it can interfere with the student's learning opportunity.
If you encounter children on Cambly, you can also message the parent and tell them about Cambly Kids. Some parents don't realize that there is a kids specific platform. You can say: "Hi x, thank you for booking a lesson with me. I enjoyed meeting your child [NAME]. Forgive me if you already know this, just in case you don't, I wanted to let you know that in addition to Cambly, there is also Cambly Kids, which is geared towards kids below the age of 15. Cambly Kids comes with leveled curriculum and tutors who are excited to work with children. Cambly Kids could be a better option for [NAME]. You can learn more about it here: https://www.cambly.com/kids/ Thank you!"