Welcome to Part 6 of the Cambly Kids Tutor Guide!

By now, you should know the basics of the Cambly platform, how to navigate the Cambly Kids Curriculum, how to set up a kid-friendly profile and workstation, how to book your first reservations with students, and how to tutor on Cambly Kids. In the final part of the Cambly Kids Tutor Guide, we will go over the policies that we have in place to ensure that our tutors and students continue to have safe and productive conversations!

Please be sure to read through each section carefully as tutors who do not follow these policies may no longer be able to tutor with Cambly.


Cambly Kids Policies
Note:

The following policies are unique to Cambly Kids. If you have tutored adults on Cambly before, please read through them carefully as some policies are enforced differently on our kids platform.
Reporting Kids During a Lesson
It is rarely necessary to report a child during a lesson. If you are having issues teaching a particular student, the best course of action is typically to first talk with the student's parent or guardian. Parents are usually willing to sit beside an unmotivated or distracted student to help encourage appropriate classroom behaviors and responses.
However, sometimes there are serious scenarios in which a tutor feels as though they must immediately report the child. As a reminder, reporting the student for any reason during a lesson immediately ends the lesson. Please reserve reporting a student during a lesson in CK for grossly poor and offensive behavior (including nudity and offensive gestures or language like hate speech or racial slurs) rather than unmotivated, distracted, or overly playful children.
Kids can have off days, and due to their immaturity and inability to self-regulate and manage their emotions, it can affect their performance in class. It is up to the tutor to utilize different classroom management strategies and teaching methods to reach and positively encourage a student who may be having a hard time focusing or participating.

Reporting Kids After a Lesson
If, after a lesson, you decide to hide from the student, we recommend that you notify the parents. More often than not, children won't understand why the tutor suddenly disappeared (particularly if a tutor leaves a session abruptly) and they could be confused or upset when they find out that their tutor is missing. We highly encourage tutors to talk to the parents first via the Cambly messaging system. You can politely explain that you will no longer be able to accept reservations from them and recommend them to find another tutor.
To learn how to hide from a student, please see this help center article.
| | |
| --- | --- |
| | Please do not hide from a student in the middle of your session. We ask that you honor the 30-minute reservation commitment of your time if at all possible before choosing to hide your profile from a student. If you must hide your profile, we suggest trying to finish the lesson first unless the student is exhibiting grossly poor and offensive behavior. |
Finally, before you hide your profile, please try your best to manually cancel any future reservations within the next 7 days with that student so that they are aware they need to rebook those classes. Cancelling future reservations will notify the student/parent via email, whereas hiding your profile from the student doesn't notify the student/parent via email. This means that they may not notice the cancellation and still show up to the class only to find out that there is no class when the reservation time starts.
For more information about how to use the hide feature on Cambly Kids, please watch this video from Tutor Elena:




Starting Sessions Late or Missing Reservations
Please remember that for students in our Kids program, minutes do not roll over and are instead lost. We ask that tutors respect each student's reservation as they have invested both time and money to have these specific classes. Some families may have a very busy day and carve out specific times to practice English.

If a session started late or had tech issues and you have a back-to-back schedule, we suggest informing the student that the class will be x-number of minutes shorter due to the issue and that you have a reservation starting in x-number of minutes. By managing expectations upfront, the student won't be surprised when a tutor ends sessions earlier than they expect. By utilizing effective classroom time-management techniques, tutors can prevent their schedule from getting off track and penalizing future students for an issue in a prior class.

If you are unable to attend a reservation, please let the student know as soon as you are able. We understand emergencies can happen to the best of us, however, many students plan their days around these reservations! It can create a very negative experience for them when tutors fail to show up to the reservations as they will not be able to find a replacement tutor in time to fill the time slot.

Ending Sessions Early

Because unused minutes do not roll over, it is a huge inconvenience to the student (and parents) when their classes are cut short and not held for the full, scheduled 30 minutes. When at all possible, we ask that the class is held for the full class time. We understand that it could be tiring to have back to back reservations, so feel free to schedule a break between your sessions!

If the issue is that lessons seem too short, you can extend the material by asking open-ended questions related to the material. If your younger or lower-level students can benefit from extension, you can consider the vocabulary and sentences taught in previous lessons and have students use those target words in the new lesson. You can have them give descriptions, identify colors, shapes, or feelings in order to get them actively engaged and speaking more often. Reviewing the material and going back over difficult slides is another option you may consider if you find extra time at the end of the session.

If you feel the content is far too easy for the student, please let us know, and we can modify the content level for the student so that it is more appropriate. We value your feedback in creating the best experience here at Cambly Kids!

Pro Tip: We understand that there will be times in which no matter how hard you try, circumstances outside of your control, (whether it be an emergency, tech issue, or an issue from the student side), will lead to a late start, early hang up, or a no show.

In those situations, all that we recommend that you communicate clearly to the student what is going on as soon as you are able to. Just a quick message to explain can go a long way into avoiding negative interactions and reviews.
Use of Extra Resources



If you decide to use extra resources such as videos and games to supplement your sessions, be sure to stay in engaged with your student as they use it! Taking breaks to discuss what they've seen so far and asking questions as new concepts come up are great ways to both use a resource and also make sure that you're using your teaching skills to supplement the experience. We recommend avoiding over reliance on these resources which we often see occur when a resource is used for extended periods of time without any interaction.

For a list of extra resources that can be used specifically with kids, please follow this link!

Cambly Wide Policies
| | |
| --- | --- |
| Note: These policies are meant for ALL of our tutors to follow. As a tutor on our Cambly Kids platform, you are expected to adhere to these policies as well. Policies that are unique to Cambly Kids take precedence over any listed below if they happen to conflict. | |
Table of Contents
Working With Students

Tutor Profiles
Often, the first introduction a potential student on Cambly has with you is your tutor profile. Students will often take a few minutes to scan through as many tutor profiles as they can before they decide which tutor to call and start their learning journey with. As such, having a tutor profile that best represents you and your teaching style is essential to having success on Cambly.

While we strive to give tutors as much freedom as possible when it comes to their profile, for the safety of our students, there are a few guidelines to keep in mind when deciding your display name, profile photo, and profile video:

Display names should be used as a way for students to identify you. While it can be beneficial for you to also include your skills, (such as Business Talk), we recommend that a name is included as well, (John - Business Talk), as this helps students feel more at ease about booking with you! If you are uncomfortable using your actual name while in the classroom, feel free to use a pseudonym that your students can use.

| | |
| --- | --- |
| Note: Please be aware that due to Trust and Safety concerns, it is against Cambly policy to share your personal contact information with your students. Because of this, please do not include any social media handles or emails in your display name. | |
Profile photos: We recommend using headshots with good lighting where your face is clearly visible as these types of photos help students feel safe and comfortable when deciding who to call. Also, we recommend selecting a photo without other people so that it is clear to the student who their tutor will be.

Profile videos: We recommend focusing on your teaching ability and style so that students are able to get a good picture of what it would be like to be in your classroom. You can also show off your personality and interests as well!


Attendance
When working with students, it is important to note that for reservations and priority hours, there are certain guidelines that we expect all tutors to follow:

Reservations

When connecting by reservations, please be aware that while canceling one reservation will not have any effect on your account, if you cancel or miss multiple reservations in a row, the system will consider your schedule outdated and may clear it automatically. Consistently canceling reservations within 12 hours of the scheduled start time or missing reservations will temporarily limit your reservation calendar to regular students only.

If you are experiencing an emergency and are unable to cancel your reservations, please contact tutor support when you are able to and let them know of your situation. If able, please also include when you intend to return to tutoring. While this may not prevent the system from clearing your schedule, it will allow us to internally log your absence so that we can prevent a loss in your ability to tutor due to frequent no shows or late cancels.
| | |
| --- | --- |
| Note: Please be aware that due to the volume of these kinds of messages, tutor support will not be able to cancel reservations on behalf of tutors. | |
Priority Hours

When picking up priority hours, please be aware that the expectation is for you to be ready right when the priority hour starts and to answer all incoming calls during the time you have signed up for. Signing in late, ignoring calls, and signing out early may cause your Priority Hours to be automatically dropped, which may hurt your ability to sign up for more Priority Hours in the future (see "Cancellations and No-shows" for more details).


Note:

When a student calls you, they use minutes that they have purchased. Because of this, it is important that you not only answer all incoming calls, but that you do your best to stay connected with the student throughout the duration of the call. Otherwise, the student may lose access to any minutes that were not used if a session ends earlier than expected.

If you are approaching the end of your Priority Hour and plan to log off as soon as it is over, please be sure to check off the box in the dashboard that says "Tell students that I will log off after this priority hour."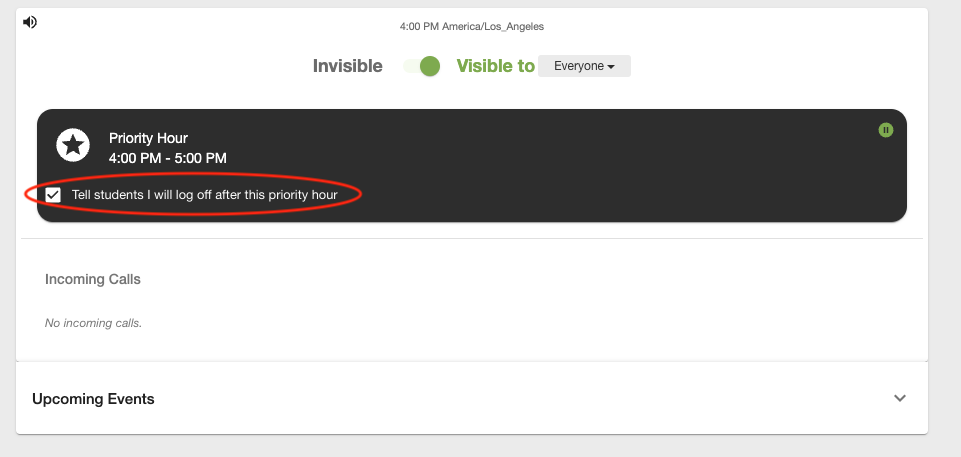 If you have to leave a Priority Hour urgently, that's no problem! Our system is designed to overlook one-off misses. If your Priority Hour is within 12 hours but you no longer can make it, it is better to drop your Priority Hour late than to miss it. However, canceling too many Priority Hours short notice may lead to your Priority Hour access being temporarily blocked.


Paid Trials

Cambly has implemented additional protections for tutors when working with trial students. When working with a trial student, the student's camera will be turned off by default. Once the tutor has a chance to feel comfortable with a user, they can then choose to switch the student's video/camera on.

In addition, you have the option to opt out of all trial calls. Simply visit your Tutor Dashboard and click on the drop-down feature to select "Paid Users Only," this means you will be visible to all students except trial students. You can switch this visibility on or off as much as you like.
Religion, Politics, or Other Controversial Subjects
On Cambly, you may encounter students who have questions about religion, politics, or other potentially controversial topics while practicing English. Some tutor-student relationships are open and respectful enough to have fulfilling and productive conversations about these topics, but sometimes these topics can lead to negativity and can distract the student from their goal of learning English.

If a student wishes to engage in a conversation or if as a tutor you feel it would be productive to bring up these topics, please do so with an extremely high level of sensitivity. If you sense that the conversation is becoming hostile, we strongly recommend that you desist and move to another topic.


Responding to Romantic Interest
Cambly tutors often work very closely with students which often leads to deep friendships. Sometimes those friendships can lead to something more but it is Cambly's policy that tutors should discourage and avoid romantic interest. If you develop a romantic interest while on Cambly, please report it to us immediately so that we can assess the situation. Failure to do so may result in a loss of your ability to tutor on Cambly.


Note:

If one of your students is displaying romantic interest and you are unsure how to steer the conversation back to a professional one, you may report that to us as well so that we can help assess the situation and determine the best course of action. Because of the nature of these types of interactions, if there is any doubt about how to handle a situation, it is best practice to inform a Cambly staff member as soon as possible.




Reportable behaviors include: offers of gifts or money, romantic/sexual messages or comments, and asking for personal contact information. Any behavior that could be considered lewd or indecent is also strictly prohibited and will result in an immediate loss of the tutor's ability to tutor on Cambly.

Romantic overtures may be interpreted differently in different cultures and can lead to discomforting and unexpected behavior. This policy helps keep both tutors and students safe.


No Solicitation Policy
Cambly is a place reserved for English learning, and we work hard to maintain a comfortable learning environment for both our tutors and students. As such, please refrain from providing or promoting any external service to students, and please refrain from accepting any external services from students. External forms of payment, gifts, or tips from students are not permitted. External forms of payment, gifts, or tips given to students by tutors are also not permitted. Cambly connects students and tutors for the purpose of practicing English on Cambly only.
Rude Users and Reporting Students
We work hard to keep Cambly a safe, positive place to teach and learn English by maintaining a zero-tolerance policy for anyone-- student or tutor-- who misuses the service. Unfortunately, tutors sometimes encounter offensive users. Offensive behavior could range anywhere from using offensive language or gestures to nudity.

While we understand how upsetting offensive behaviors can be, we request that tutors behave professionally at all times and ask that they not engage any offensive student. In grossly offensive situations, rather than responding to the student's remark, etc, we empower tutors to ban any grossly offensive user from Cambly anytime they encounter extreme and troubling behavior. We review ban reports so if it turns out to be a misunderstanding, we'll let the student back onto the platform. To report or ban a user, press the red "Report/Ban" button at the top left of the classroom.

| | |
| --- | --- |
| Note: Pressing this button automatically ends the class when pressed, so please only use the in-class 'Report/Ban' button in cases of extremely offensive behavior, such as profanity, nudity, or hate speech. | |
You can also ban students who send offensive messages by clicking on the wheel icon from the message window and selecting "Report" and then "Offensive".

In other instances where tutors feel uncomfortable, but the user hasn't done something grossly offensive, tutors may hide their profiles. This will stop the student from seeing the tutor online, sending them messages, or making reservations with them. In this case, the student will still be able to call other tutors, as opposed to a full ban which blocks them from the platform altogether. To hide from a user, when outside the classroom, you can go to their student page (for example, by clicking on their name in your Call Log in the History tab) and click on the 'Report/Ban' button.


Classroom Etiquette
Drugs and Alcohol
Please refrain from smoking, vaping, or drinking alcoholic beverages while tutoring as this is strictly against policy and may result in an immediate loss in your ability to tutor on Cambly. This policy also extends to tutoring while under the influence and to having objects affiliated with these behaviors in camera view. Before tutoring, please be sure that these objects are not visible by the student. Non-alcoholic drinks are allowed and may be consumed while tutoring.


Dress Code
Our appearance reflects on ourselves and on Cambly. Cultural norms for dress and appearance vary around the world. We value openness, inclusivity, and discovery of people and cultures in an educational environment that is supportive for all participants - tutors and students alike.

Your students look up to you as an English-tutoring professional, so it's important to look the part! Our dress code is casual, but you should maintain a well-groomed and professional appearance while working with students. It's similar to one you'd find in a university setting.

Fitted T-shirts are fine, but no sleeveless attire, exposed shoulders, exposed chest or cleavage, sunglasses, or clothing with offensive images/language.

If a head covering is worn, it should be open and leave a clear, unobstructed view of the face and eyes.


Teaching Environment
Tutoring from a quiet, tidy, and well-lit area will help you feel more professional and will drastically reduce distractions for your students. Whether you choose to decorate the area around you or simply tutor in front of a blank wall, we ask that the background showing in your video feed be neat and free of any kind of distractions that might prevent the student from being able to focus during the lesson.

You should be sitting up or standing, with your computer resting on a flat surface to avoid camera shake. Your camera must be on at all times. You may choose to turn off the student's camera if they are a trial student and can turn it back on once you feel more comfortable. Your face should be fully visible and directly facing into the camera, not looking off to the side. If you choose to stand while tutoring, please be sure to raise your computer or webcam to about eye level. Please do not tutor from a bed or reclining position, and please avoid having other people visible in the video feed behind you.

For those with pets:

If you have a pet, please consider finding a way that they do not distract from the lesson. If at all possible, we recommend that tutors not teach in the same room as their pets, as this may contribute to ambient noise. Occasional pet noise is okay, but constant pet noise is not conducive to learning and is against policy. Also, please do not allow them to walk around freely in the background.

Students may sometimes ask to see your pets, but we suggest that it shouldn't take more than a few seconds to show and then let the pet go on its way.

For those who use internet add ons or additional software to help enhance their sessions:


Please ensure that these do not obscure your face in your video feed at any time. If you want to screenshare, please use the built-in feature, which will cause the screenshare to occur in the lesson material screen instead of over your own face.

| | |
| --- | --- |
| | Pro Tip: If you are having a technical issue with your internet add on or additional software, it is best to reach out to their specific support team to find a solution rather than writing into Cambly Tutor Support. |

Being Engaged and Respectful
Students from all over the world come to Cambly in hopes of taking the next step in their English-learning journey. Many times, you'll encounter students who are taking their first step and are true beginners to both English and an online style of learning. As a tutor, please try to be patient at all times with your student, especially when they are struggling with a concept. Use of profanity is not allowed and will only detract from the student's learning experience.

Please note that tutors who express any sort of anger or aggression towards their students or Cambly staff may lose their ability to tutor on Cambly as there is no place for that in our platform.

You may also connect with students from different cultures and backgrounds who have different viewpoints about certain topics. Being able to learn from those with different perspectives is one of the many benefits of the Cambly platform, and we ask that this is done in a mature and respectful manner.

Please be aware that tutors who make any remarks that can be considered culturally insensitive, derogatory, or discriminatory towards any individual or groups while in session or within a chat will lose their ability to tutor on Cambly.

Finally, it is important to keep in mind that each student you connect with on Cambly is ultimately paying to improve their English-speaking skills. Because of this, tutors should always be fully engaged with their students and free from any distractions such as using a cell phone or browsing the internet. Eating or chewing gum can interfere with your speech and make it harder for your students to learn.


Pro Tip:

While we discourage eating or chewing gum while in sessions with students, non-alcoholic drinks are allowed and can be consumed. Especially if you prefer to have a full schedule, this is essential to making sure that you can stay engaged and attentive to your students even after a long day!
Silent Sessions, and Sessions with Family, Friends and Yourself
At Cambly, our mission is to provide excellent yet affordable English instruction to learners around the world. We're proud to offer students the most reasonably priced subscription in the industry, often by multiples compared to other options.

Sessions without genuine instruction, including silent sessions, calls from family, friends or yourself, increase the cost of our service without delivering additional instructional value, meaning we may eventually need to raise prices on students who may not be able to then afford Cambly.

Sessions without genuine instructions raise students' costs, deprive students of your availability, and strain our servers without providing a student any help in becoming a better English speaker, which is ultimately the mission of our company. As such, it is our policy that Cambly is a place for the teaching and learning of English only.

If a student requests a session without genuine instruction, please do your best to continue on with the lesson. If they insist on having a session without genuine instruction, please politely end the session.


Time Management
When a student books a reservation with you, we request that you will honor the full time commitment that they have reserved with you. If you are on a Priority Hour and plan to log off as soon as it is over, please be sure to check off the box in the dashboard that says "Tell students that I will log off after this priority hour."

If something unexpected occurs and you need to leave a session with a student early, please try your best to let them know that you are ending the call so that they understand the situation. If you know ahead of time that you will need to end the session early, it is best to tell the student at the beginning of the lesson.


| | |
| --- | --- |
| Note: When a student calls you, they use minutes that they have purchased. Because of this, it is important that you do your best to stay connected with your student throughout the duration of the call. Otherwise, the student may lose access to any minutes that were not used if a session ends earlier than expected. | |

As much as possible, please ensure that you arrive at your lesson on time. If you prefer schedules with large blocks of reservations when setting up your reservations and Priority Hours, (back-to-back classes to maximize your time), it is best practice to incorporate some breaks into your schedule so that you have time to prepare between them.

We know that emergencies can happen and if you are unable to honor your time commitments because of them, we totally understand. However, tutors who show a pattern of early hang ups or late starts over multiple, extended periods of time may lose their ability to tutor on Cambly.


Privacy
Video Recordings & Privacy
Your username, profile video, photo, and other information you add to your profile is publicly available online. Therefore, be sure to only include information you are comfortable sharing. To help maintain your privacy, you can use a tutoring name that is different from your real name. If you'd like to do so, you can update your Display Name (appears on your profile) at any time from your Account Settings. If you'd like to change your username (appears in URLs associated with your account) please send a request to our Tutor Support team.

Additionally, all video sessions and chat messages on Cambly are recorded and securely stored on our servers. Students can review their past sessions, which many have found to be an essential part of their learning process. Cambly also reserves the right to review and internally share sessions for quality control and training purposes. This helps us maintain a high level of excellence so both our tutors and students have the best experiences possible.

To help promote your personal brand inside of Cambly and attract new students, we prompt students with the option to share their video recordings with friends and/or on social media. If you'd like, you can turn this feature off from your Account Settings. However, as students have access to their Cambly videos regardless, it's possible that some may choose to share their tutoring video(s) with friends or online. We encourage our students to always ask tutors for permission before sharing videos with others.

In order to protect students' privacy, tutors should refrain from recording sessions, sharing student information (including students' names), or screenshots of the classroom even if they have the student's permission.

Trial students:
Cambly has implemented additional protections for tutors when working with trial students. When working with a trial student, the student's camera will be turned off by default. Once the tutor has a chance to feel comfortable with a user, they can then choose to switch the video/camera on.

In addition, you have the option to turn off your visibility to trials, so that you never receive calls from these students. Simply visit your Tutor Dashboard and click on the drop down feature to select "subscribed students only (no paid trials)." This means you will only be visible to subscribed Cambly students. You can switch this visibility on or off as much as you like.
Sharing Personal Contact Information
Tutors and students alike should refrain from soliciting or sharing any external contact information (Facebook, Skype, Email, WhatsApp, Instagram, WeChat, personal YouTube channel, etc.). This protects your privacy and ensures you get paid for talking to students. If a student offers you personal contact information, please politely respond that it's against your policy and discourage them from doing so. You can also remind them that Cambly's messaging system is always an option.


Sharing PDFs and Google Docs
We welcome tutors and students to share and exchange external resources, including PDFs and Google docs. However, for privacy and safety reasons, these docs must be public, meaning no password required for PDFs and no permission request needed for Google docs.


Meeting Cambly Students in Person
Tutors and students often develop such strong bonds that sometimes they consider meeting in person. We advise tutors to exercise their best judgment while arranging in-person meetings. You can use the Cambly messaging system to communicate details. Please note that Cambly does not perform background checks on students. Meeting a student offline may hold a similar risk to meeting any person offline whom you've met on the internet.
Multiple Accounts / Sharing Accounts
Tutors should have only one account at all times. Creating multiple tutor accounts under different email addresses is not allowed and may result in all associated accounts losing their ability to tutor on Cambly.

To ensure the safety of our students, we also do not allow account sharing. If someone asks to use your account to tutor, please instead invite them to apply and create their own account with us. Sharing your account with another person may result in a loss in your ability to tutor on Cambly.


Support
Cambly Community
If you're looking for a great place to meet and discuss your experiences with other tutors, you can request to join our Facebook groups, Cambly Corner. If you're a tutor on Cambly Kids, you can also join Cambly Kids Corner. There are also other options to keep in touch with the community such as:
Subscribing to the

Cambly Tutors

on YouTube for advice and inspiration from experienced tutors.

Following us on Instagram to stay up to date with the latest news.
Please keep in mind that while interacting on our official social media channels, we expect all tutors to be respectful to all users and admins and to adhere to the guidelines set within those channels.
Tutor Support
If you run into a technical issue and can't find a solution on our Help Center you are more than welcome to reach out to our Tutor Support team. We're a small, but experienced and hard-working team trying our best to help tutors as much as possible. :)
Occasionally, a Cambly team member may reach out to you via email or video chat on the Cambly platform. Please ensure you have an updated email address on your account and respond to all emails in a reasonably prompt manner.
Student Support
Sometimes students, especially trial students, will ask their tutors questions about Cambly. You can find answers to the most frequently asked questions here. If your student is experiencing a technical issue, sometimes you can offer advice, but often the best thing to do is direct them to Student Support ("contact us" on the students' side). They're excellent and can resolve all sorts of matters nearly always in the student's native language.

You have now completed the Cambly Kids Tutor Guide!



We hope that you were able to learn all that you wanted to know about the Cambly Kids platform and that you are excited to get out there and start meeting our eager students!

We highly encourage you to bookmark this tutor guide so that you can quickly access it if you are having any issues while tutoring with us. We also recommend that you stay connected with your fellow Cambly Kids tutors! We are proud to have a community of tutors who are always willing to assist new tutors as they find their own teaching style.

Here are a few ways that you can stay connected with us as well as your fellow tutors: