What are Cambly Courses?
Cambly Courses are structured English lessons that empower tutors to teach great, pre-prepared lessons without needing to do lesson prep! Cambly Courses covers some of the most commonly-asked-for topics by our students. There is a topic for everyone, from beginners to experts and IELTS exam-takers to casual learners.
Cambly Courses are optional for students and allow them to choose between having conversation-style lessons or covering prepared lessons. Each lesson is designed so that any tutor can pick up and go without any preparation or background knowledge! You can see all the Cambly Courses inside the Cambly Library.
Cambly Courses Tutorial Video
Want to learn more about Cambly Courses? Watch this tutorial video below!
Who chooses Cambly Course?
The students choose the course they want to take. Only one course can be worked on at a time. If you find that your student is not at the right level, please first check with your student whether they have chosen their current course for a specific reason – perhaps they want to stay in their comfort zone or are looking for an extra challenge. If the student agrees that the current lesson is too easy or too hard for them, you can learn how to change the lesson while in the virtual classroom here.
How long is each Cambly Course lesson supposed to last?
Each lesson is designed for a 30-minute class. If your student has a shorter class, don't worry! The student can always split one lesson into multiple tutoring sessions. After you and the student hang up, the student will be asked whether or not the lesson is completed. The student can select "no" and be presented with the same lesson next time the student calls a tutor. If your student has a longer class, there are bonus materials at the end of each lesson for you to work with your student on. The bonus materials are totally optional and it is up to you and the student to decide if you would like to work through them!
What are "My Courses"?
If you feel confident and comfortable in teaching a course from the Cambly Library, you can add the course to "My Courses." Cambly will promote you to students enrolled in these courses.
To add a course:
Go to that course's page
Click on "Add to Profile"
Answer a few short questions about the course
Done!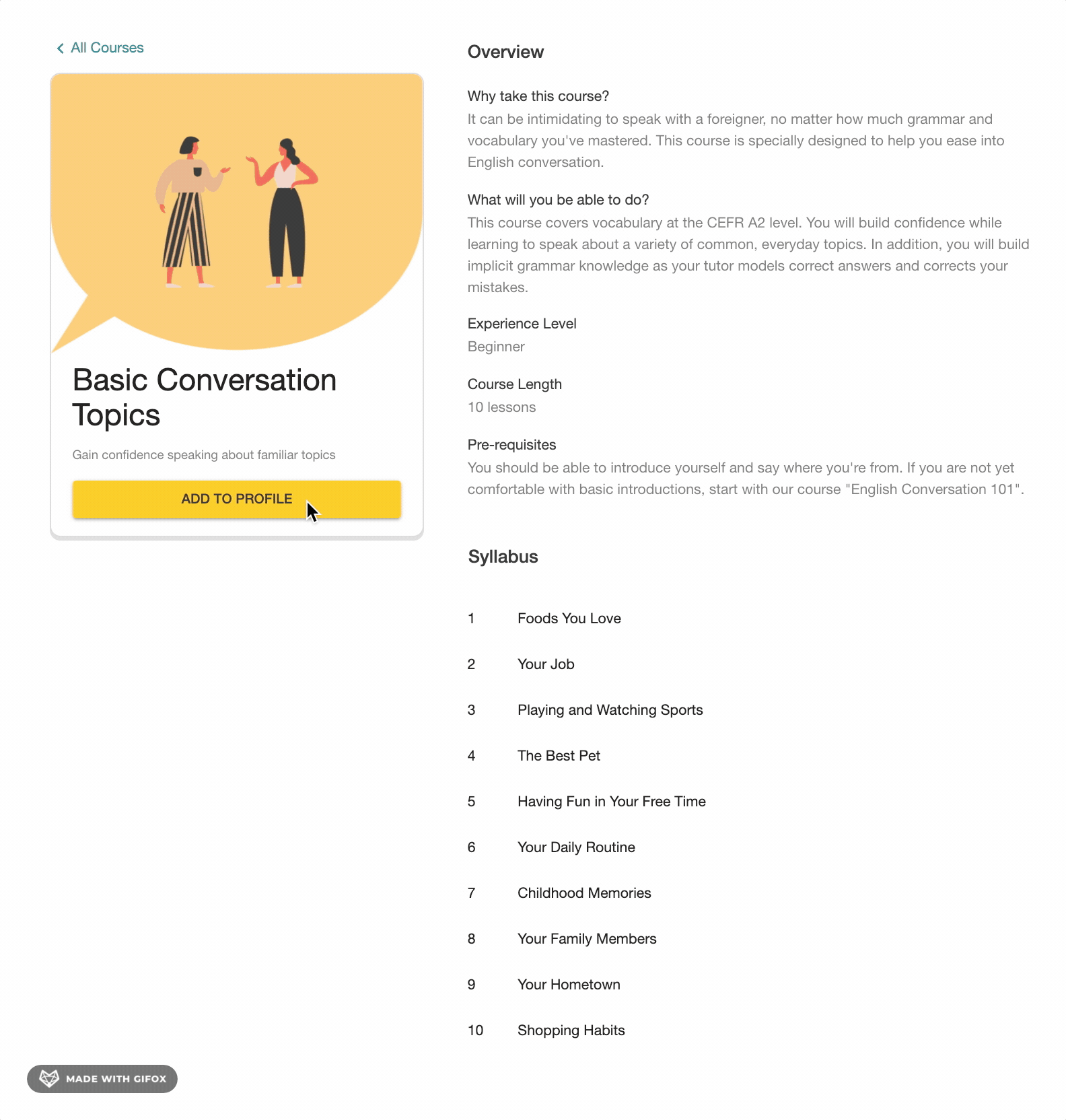 Your added courses will now appear in the Library tab, as well as your tutor profile to students.

Speaking Games
Speaking games are a great way to engage students, and can be used to fill extra lesson time. All games can be played many times and are simultaneously fun and educational. Currently, there are ice breaker and pronunciation games. You can find all the speaking games in the Cambly Library.