Saved Links
There are a variety of resources for tutors to use during a lesson. Tutors can use any material in the Cambly Library, ranging from Cambly Courses to Speaking Games. In addition, tutors can also access external links they've bookmarked.
"My Saved Links" can be found be under "My Courses" section on the Library tab.
Once you are on the "My saved links" page, you can add a new link by clicking on "New Link" button on the upper right corner of the page. Once your links are added, you can sort them alphabetically or by date. Click on the up/down arrow to sort by ascending or descending order.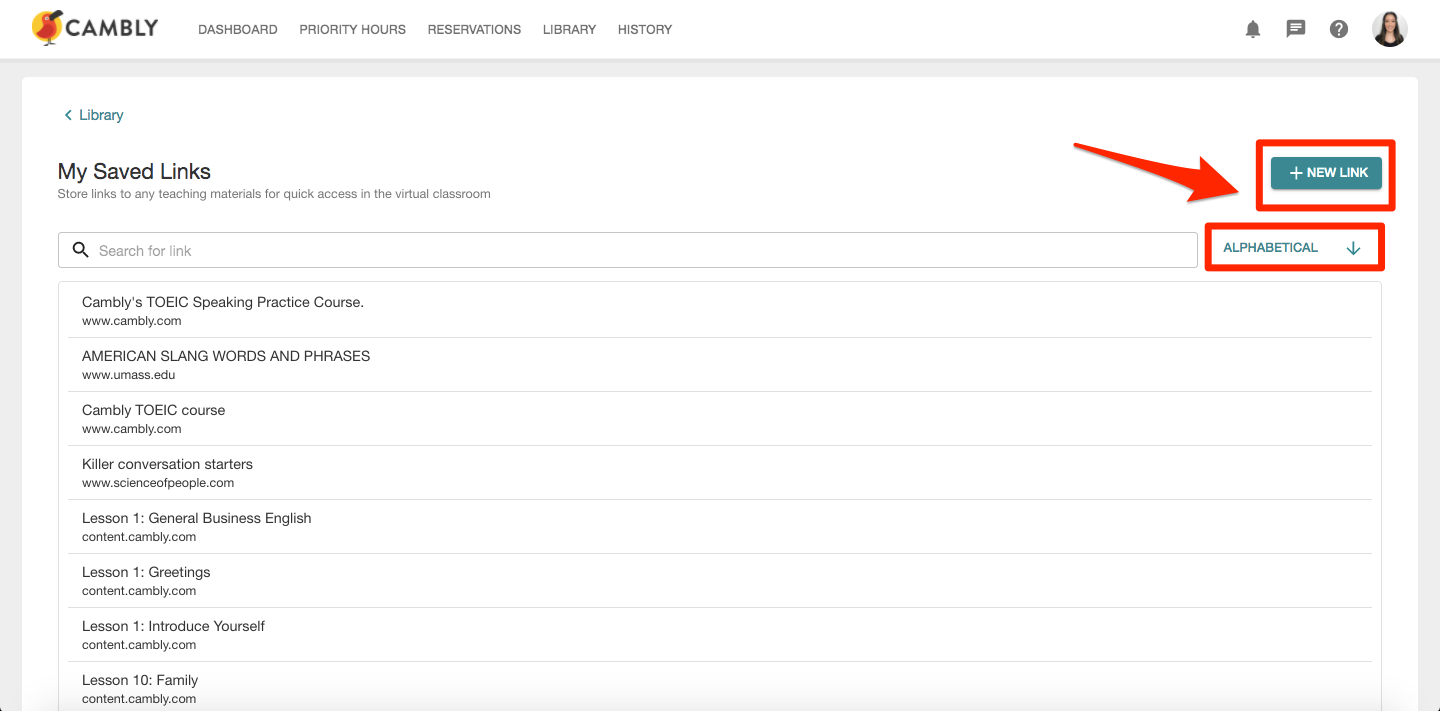 During the lesson, you can access your saved links under the Library section on the right side of your screen! Once you click on the link, it will copy and paste into your chatbox. You can modify your message to the student before sending the link!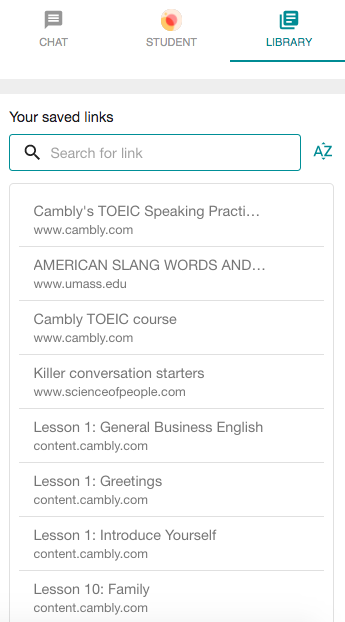 If you feel like the Cambly Library is not sufficient for your students' learning, please give us feedback on what topics you would like see by contacting Tutor Support. We also gathered a list of of useful websites below for you to use with your students!
General Resources
Cambly Lessons. Everything from test prep questions, conversation topics, grammar tips to discussion topics. Please note, with the introduction of Cambly Courses, we will not be maintaining or updating the Cambly lessons website. All levels.
Engoo. Comprehensive materials for everyone. All levels.
Discussion questions. Pick a topic and fill your session with an engaging discussion! With this comprehensive list, you'll never run out of things to talk about on Cambly. All levels.
Business English Practice
Exam Preparation (TOEFL, IELTS, ESL)
Idioms & Common Expressions:
Grammar Exercises
Introduction to grammar basics. Go over verb tenses, prepositions, conjunctions, and other grammar basics. Low-intermediate/intermediate learners.
Grammar exercises. Go through grammar exercises. Low-intermediate/intermediate learners.
Pronunciation & Intonation Practice
Phrases
Experts believe that learning phrases is one of the fastest ways to fluency. Many students learn vocabulary but are unable to quickly create real sentences. If you know 1000 words, you might not be able to say one correct sentence. But if you know one phrase, you can make hundreds of correct sentences. The sets below provide 240 common English phrases.
Sets of phrases
These 24 sets of phrases will get students started on the road to fluency. Try to learn each one by creating several sample sentences and then practicing using each in conversation. Repetition and practice are key. Sets are ordered loosely in ascending order of difficulty, and the links connect to sample sentences as provided by the following free site:
www.talkenglish.com
.