If more than one student is struggling to hear you, it's very likely there's an issue with your audio/microphone.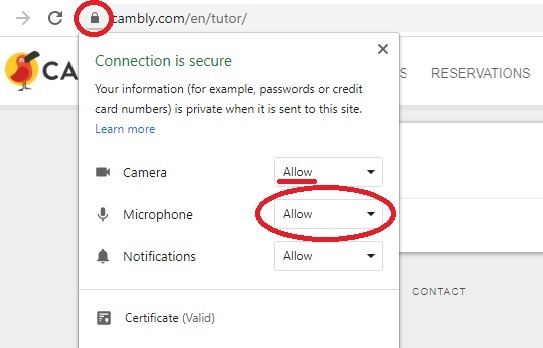 Make sure your microphone isn't muted. Most tutors have accidentally muted their microphone at least once in their Cambly careers!
Check to see if your microphone works in other apps/programs. If it doesn't, you may need to replace it or configure your setup.
Make sure Cambly has the necessary permissions in Chrome as shown in the screenshot on the right.
Close all other programs, apps, and tabs while 'visible' to tutor as one could be interfering with Cambly or Chrome using your audio.
Make sure your Chrome and OS are up-to-date and that you've restarted your computer.

Usually, one of the above solutions solves this issue, but if not, please try running through this checklist as thoroughly as possible:
Please only use Chrome on a computer (no other browser, not the app, and not on a smartphone or tablet).
Please disable any unnecessary webcam software.
Please disable all Chrome browser extensions.
Run Cambly in an incognito window.
While troubleshooting, perhaps try disabling all firewalls, anti-viruses, ad-blockers, VPNs, etc. that could be interfering. Seek professional advice if you have concerns about the security of your computer, home network, etc.
If you have more than one headset/microphone, please unplug and disable all additional ones.
Please make sure all relevant drivers are fully up-to-date.
Restart your router.
Plug directly into your router using an Ethernet cable, rather than using Wi-Fi.
Make sure no scan or update is slowing your computer down.
Make sure no other person (or program) is "hogging the bandwidth" as we say.
One of those things is bound to solve the problem! If not and if possible, please try connecting using a different computer on the same connection. If you experience the same issue on more than one computer, there could be a connection issue and we'd recommend you contact your ISP (Internet Service Provider).

We hope that helps solve your in-call audio issue!