This means either your microphone is faulty or Cambly/Chrome can't detect it.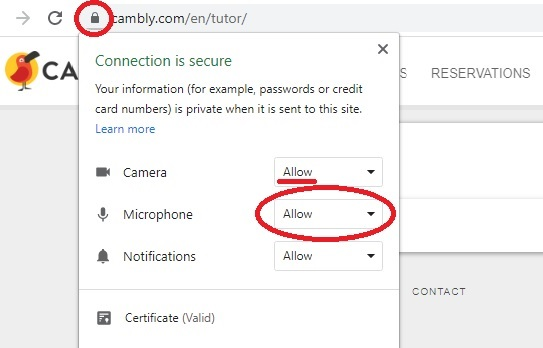 Please check to see if your microphone works in other apps/programs. If not, you may need to replace it or configure your setup.
Please make sure Cambly has the necessary permissions in Chrome, as shown in the screenshot on the right.
Close all other programs, apps, and tabs while 'visible' to tutor as one could be interfering with Cambly or Chrome using your audio.
Make sure your Chrome and OS are up-to-date and that you've restarted your computer.
Usually, one of the above solutions solves this issue, but if not, please try running through this checklist as thoroughly as possible:
Please only use Chrome on a computer (no other browser, not the app, and not on a smartphone or tablet).
Please disable any unnecessary audio and webcam software. Seek professional advice if you're unsure about anything.
Please disable all Chrome browser extensions.
Run Cambly in an incognito window.
While troubleshooting, perhaps try disabling all firewalls, anti-viruses, ad-blockers, VPNs, etc. that could be interfering. Seek professional advice if you have concerns about the security of your computer, home network, etc.
If you have more than one headset/microphone, please unplug and disable all additional ones.
Please make sure all relevant drivers (sound etc.) are fully up-to-date.
Please clear Chrome's cache and restart your computer again. Please note: settings for many different websites can be lost when you do this.
If you have another computer in the house, it's possible it wouldn't have this issue and you may be able to use it to tutor while fixing your original one.
We hope that helps you solve your audio issue!