Why is my chat length/minutes incorrect? How do I get this fixed?
Great question! Our systems automatically flags any chats that have been miscounted and those are corrected before pay is released on Monday. Often times, the chat minutes are incorrect because of poor internet connection and our servers do not detect either the student or the tutor as online. We do have a system of finding and correcting incorrect chat length. If you notice the chat has not been corrected by Monday, please write to our Tutor Support Team with the date, time, and student's name of the incorrect chat. We are always happy to make sure you are getting paid for all your chat minutes.
What do I do when I see "student is trying to reconnect" in the classroom?
If you're on a PH and you see "...is trying to reconnect", please exit the classroom rapidly. If you're not on a PH, it's up to you if you wait a few seconds before exiting, but we recommend not waiting for more than 30 seconds.
Connection Issues, getting disconnected or unable to connect to calls
There can be many reasons why you are experiencing issues with connecting to students. We have outlined below some best practices and tips of things you can do to make sure your internet is optimized for video calling. Tutors who follow these steps are much more likely to experience fewer issues when using Cambly.
1) Make sure your hardware is prepped for Cambly - Restart your computer and router regularly. If either is left on for too long they can start to cause performance issues.
2) Make sure your software is up to date - Check to make sure you are on the most recent version of Chrome and of your computer's operating system.
3) Optimize your internet connection - Try to minimize the number of additional devices connected to your wifi, minimize the number of background programs/applications you may have running on your computer, and clear your cache (this helps clear out the stored data on your computer and frees up more space). Move your computer closer to your router, or if possible, plug directly into your modem.
4) Check your Chrome extensions - Make sure you do not have an excess number of extensions running in your Chrome browser. An easy first step is to try to tutor from an incognito window (this disables any extensions you have installed). If this resolves your issue, you will want to examine the extensions you have installed and decide which ones are necessary. There are a lot of different Chrome extensions out there, but oftentimes anti-virus extensions are installed that severely impact a tutor's ability to connect on Cambly, or an excessive number of extensions slow down a tutor's browsing speeds.
5) Disable any anti-virus/firewalls you may have installed - Most anti-virus software blocks the ports on your connection required to tutor on Cambly. (Avast, Norton Anti-Virus, McAfee are all examples). Try disabling those while you tutor. Additionally, make sure there are no firewalls in your connection. Beyond those firewalls installed by anti-virus software, some internet connections may have firewalls pre-installed. This can happen with wifi from Universities or other public wifi sources.
6) Make sure that you have your camera and microphone set to allow for your devices. You can find the total list of permissions by clicking the lock icon on the left side of the URL address bar and selecting the allow button.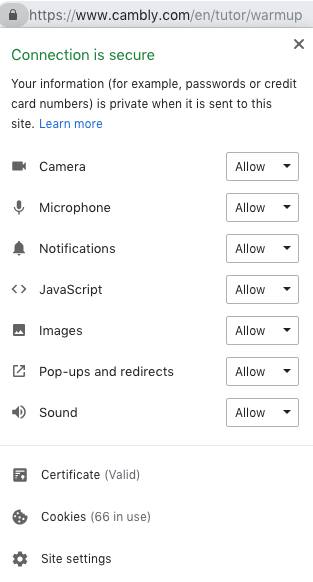 7) If you see the below icon on the right side of your URL address bar then you must set your cookies to allow for Cambly. Click on this icon and from the drop-down menu select allow.

If you are frequently seeing that you are being disconnected from a call or other tutors are answering student calls before you then you may need to contact your ISP to see if they can try to prioritize video calling for your home.
Why can't my students see me online?
There are a few different situations during which a student may not be able to see a specific tutor:
Your status is set to "invisible."
Your student has a Group subscription and can only chat with available Group tutors or, if all are busy, a Private tutor we assign to them.
Your student's connection is too slow to show them the tutors online now.
You have not completed the Tutor Checklist.
The student has accidentally added you to their "hidden tutors" list.
If none of the above apply, please submit a request on the Help Guide so that we can investigate this further!
What should I do if Cambly is down?
Are you running into this page?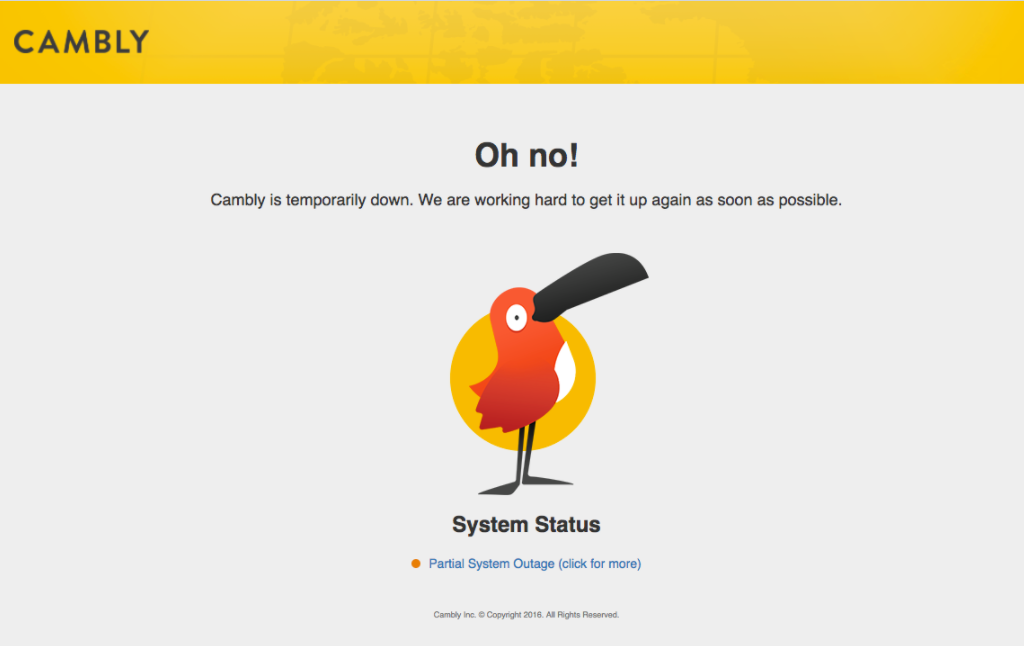 This page generally means that Cambly is experiencing a brief hiccup in services. You can check to see if Cambly is facing any extended degraded services or outages on Cambly's status page (and subscribe for email updates about our status) here: status.cambly.com
When our system goes down, we do our best to make it right by our tutors. Any priority hours dropped as a result of a system outage are automatically restored, holding you to the priority hour guarantee. No need to write in.
If there is no incident posted but you're experiencing trouble connecting, it's more likely that there is an issue with your connection. Sometimes, it is as easy as waiting a minute or two and refreshing the page to make it come back. You can read through the Technical Support help articles or submit a request if your problem still isn't resolved.
How to test my connection & Javascript console screenshots
If you are experiencing a local issue with your connection to Cambly we will ask you to do a few speed tests and send in a screenshot of your Javascript console logging the errors of where you are experiencing the issue.
TokBox Test Results
You can find the test here: https://tokbox.com/developer/tools/precall/
When completing the tokbox test you will first test the stability of your connection. Once this part is complete you will see the results of your test. At the end of the test, you will see the text "Save this data as Simple Text" by clicking that you will activate a pop-up with a summary of your results. Please send a screenshot of this summary.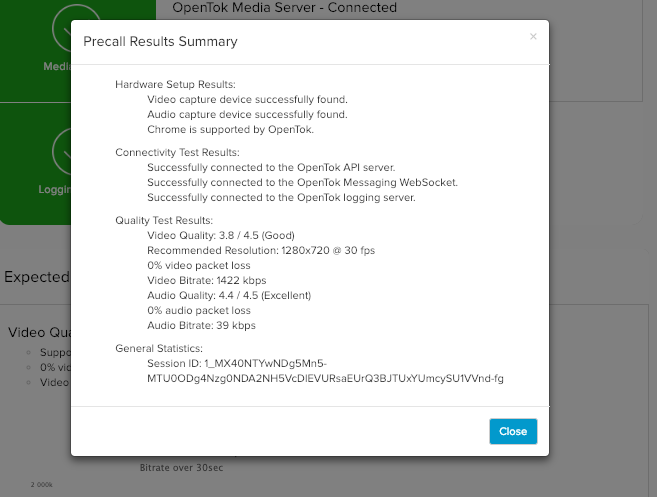 Speed Test
The speed tests we ask you to provide will help us understand if your connection is meeting the requirements to maintain a call on Cambly. If we require this information from you we will ask you to complete a test here: https://speedof.me/ and then send in a screenshot of the results.
JavaScript Console
WARNING:
A Cambly team member will NEVER tell you to paste text into your JS console. The javascript console is a logbook of actions your browser is taking behind the scenes. It will also tell you of any errors that your browser is experiencing when it attempts to do certain actions on Cambly. To open up your Javascript console you can do so by pressing these keys:
To open the Javascript Console panel:
Then when you are on the Cambly page experiencing issues you can take a screenshot of your computer screen using these helpful guides and commands: How to take a screenshot for Windows -
https://www.take-a-screenshot.org/windows.html
How to take a screenshot for Mac -
https://support.apple.com/en-us/HT201361
Your screenshot should end up looking like this with both the issue on the left occurring in real time and the javascript console on the right displaying errors in red: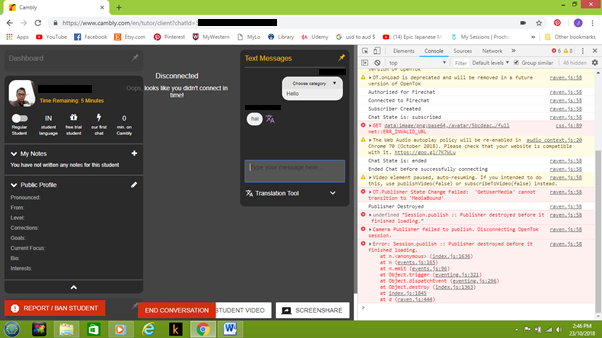 Make sure that you have the Console menu selected at the top of your panel and not the others (Elements).

WARNING: A Cambly staff member will NOT tell you to paste text into your JS console. This is one method of how malicious firmware is downloaded onto computers.
I'm confused about Daylight Savings Time (DST). When should I show up to my PH/Reservations?
Certain regions of the world are in timezones with Daylight Savings Time (DST) where the clocks change by an hour twice a year. Different timezones have DST on different dates and some have none at all. A quick Google search will show you when your (and your students') changes are, if any.

Don't worry, it's not as hard to figure out as it can first seem! Cambly's system automatically makes these changes for you on the system. There are only two things to check:

1) Timezone setting: Make sure you're in the correct Location and Timezone by checking the settings in your tutor profile. If you make any changes, make sure you click 'save' and then log out and back in to see the changes on your schedule.
2) Check your schedule: The day of the DST change can look like this in your Reservation and PH tabs: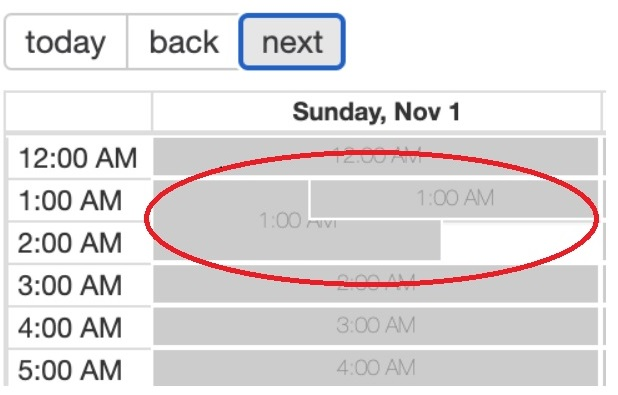 Just for the day the clocks go backward or forwards​ the time inside the reservation block/PH can be one hour different to the time on the edge of the schedule and the one thing to remember is that the time inside the block/PH is correct and incorporates the DST change.

Those are the only things most tutors need to know, but if you're in the habit of proposing reservations for your regular students and they're in a timezone with different DST changes to your timezone, you'll need to be aware that the same time for you will, of course, be one hour different for them going forward. You can either manage this manually with the students or you could just create res. blocks and let the students create their own reservations. Hope that makes sense and helps you manage the world's DST changes!