Tutor safety and protection is an area we take seriously. There are different protection measures we put in place to ensure tutors feel safe while tutoring on Cambly.

The following pieces of advice can be found throughout our tutor guide, and we highly suggest that tutors read the tutor guide and follow them in order to ensure user safety on the platform.


Privacy: Video Sharing and Profile Settings
Students have access to their past session videos as we feel reviewing lessons is an essential part of the learning process. We understand that some tutors might be uncomfortable with having one of their sessions posted online. With this in mind, all of our students are told during the onboarding process that they must ask for permission from the tutor before publicly sharing a session video.

In addition to this, we also give our tutors the ability to disable messages which prompt your students to share videos of your tutoring sessions. To do this, please navigate to your tutor settings, and check the box next to "Don't prompt students to share videos of my tutoring sessions."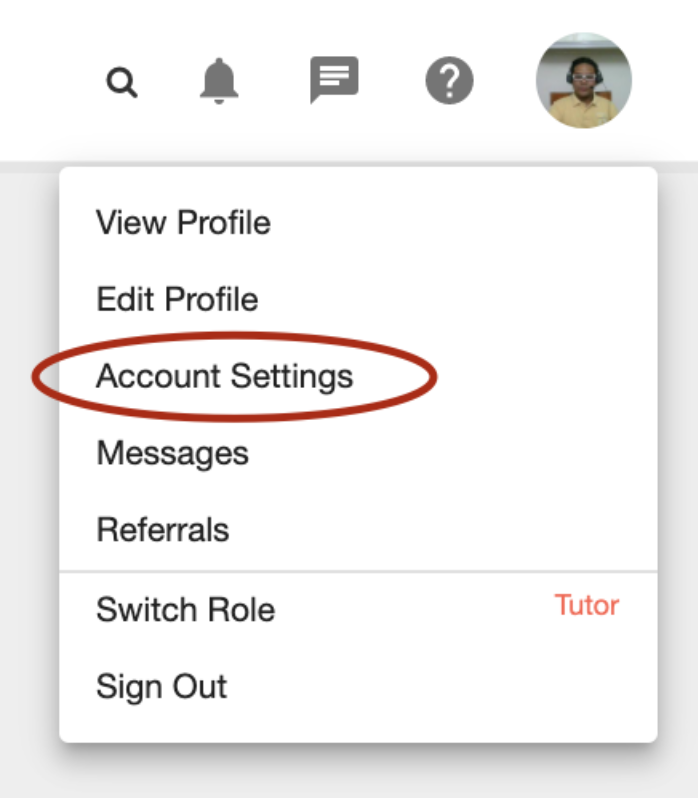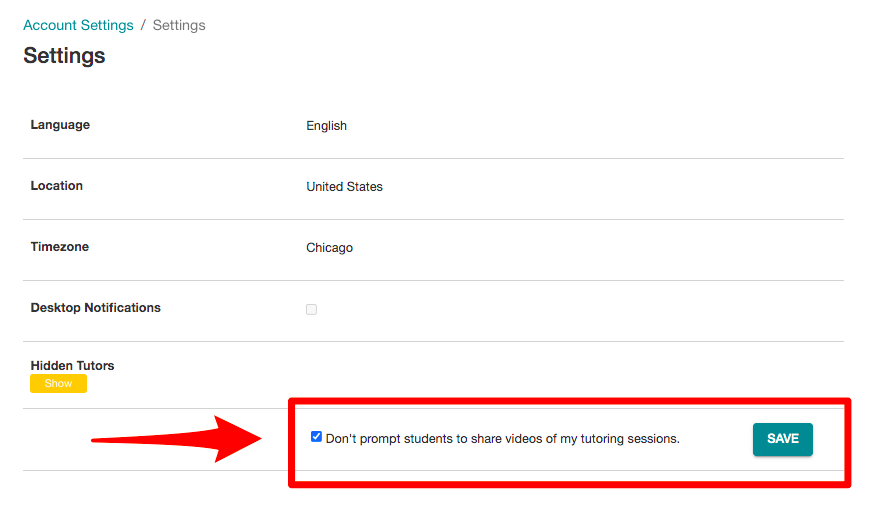 On extremely rare occasions, students have posted videos of lessons without tutors' permissions. If a student has been reminded of the 'must get tutor's permission first' policy and doesn't comply fully, they will be permanently deactivated from our platform. If a tutor becomes aware of one of their lessons' videos being posted online, the tutor can contact us for dedicated support and solutions.

Privacy: Tutor Profile
Please note that your tutor profile is publicly available online. Only add information you feel comfortably sharing (i.e. no personal contact information). To further protect your privacy, you may use a pseudonym by editing your username from your account page.
If you have any diplomas or certificates in your photo or video, please be cautious with this as it may display your full name for the students to see.
Sometimes, students may try to contact tutors outside of Cambly. Along with using a different name, it's a good idea to also use a different profile picture on your Tutor Profile than what you use for your personal social media accounts. This makes it more difficult for students to search and find your accounts outside of Cambly.


Privacy: Sharing Personal Contact Information
Keeping both tutors' and students' communication on our platform helps us ensure that everyone stays safe and tutors get paid for their time. Though students will often request your personal contact information, please just let the students know that it's your policy not to provide that information.
By keeping your interactions with students on the Cambly platform, we can take the appropriate action when inappropriate behavior occurs. Read up on Cambly-wide policies here.


Banning & Hiding
Both the Banning and Hiding features are used to protect our tutors and ensure a safe and supportive learning environment on Cambly. You can read more about use cases for banning vs. hiding here.


Cambly has implemented additional protections for tutors when working with trial students. When working with a trial student, the camera will be turned off by default, allowing the tutor a chance to feel comfortable with a user before they choose to switch the video/camera on.
In addition, you have the option to turn off your visibility to trials, so that you never receive calls from these students. Simply visit your Tutor Dashboard and click on the drop down feature to select "subscribed students only (no trials)." This means you will only be visible to subscribed Cambly students. You can switch this visibility on or off as much as you like.

Unfair and/or Low Ratings
Protecting tutors from low ratings
We do extensive filtering in order to minimize unfair ratings. A tutor's rating is an average of the last 200 ratings they received. A tutor's rating should be representative of the tutor's ability to impress students.
The following responses are filtered out to protect you from unfair ratings:
trial students

banned students

chats with connection issues

chats lasting less than a few minutes
Tutor Quality & Guidance
Our Tutor Quality and Guidance team reviews all low-rated sessions and provides tutors with both student feedback and useful suggestions to improve quality of instruction. The goal here is to help tutors improve as only through successful tutors will there be successful students. Tutors can use this feedback to improve the students' experience, and potentially, their ratings.


Can I delete my account?
You'll have to go back to the main Help Center page. Click the "Submit a Request" button at the bottom of the page.
You should be logged in to your account to send a request. If you can't remember your password or username read this article.
What happens after account deletion?
You will lose access to your Cambly account. You will no longer be able to log in to your current Cambly or Cambly Kids account, access your lesson history, messages, or settings.
The deletion of your account is irreversible.
All of your account information is deleted including messages and videos.
Any Cambly kids accounts linked to your account will also be deleted and will no longer be accessible.