Your Tutor Profile is a way of marketing yourself to Cambly students. Students will often take the time to browse tutors' profiles before choosing who they want to chat with, so we strongly recommend keeping your profile up-to-date with relevant information! From your teaching style, to your work experience and interesting or unique hobbies, we encourage you to include it all!
Profile Photo
We recommend using a friendly-looking headshot for your profile photo! The best profile photos are a clear, high-quality headshot of you looking directly into the camera and smiling. We've found that tutors who smile in their profile photos receive more new students than those who don't. Go figure, people like friendly faces!
The best head shots should contain your full face and the top of your shoulders only (i.e. no one else in the photo, no body shots). Here are some examples of great profile photos from two real Cambly tutors.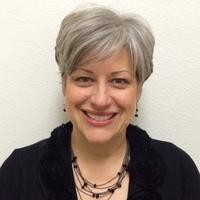 Profile Video
Your introduction video is one of the first things student's will see when viewing your profile, so we encourage making it catchy! We recommend recording a 1-3 minute introduction video. You can utilize this 1-3 minutes to talk about your experience, show off your personality, and talk about what a class with you would be like! We strongly recommend following the dress code while recording your video. For introduction videos, we don't allow hats, sunglasses, or exposure of shoulders. We don't expect you to wear a suit and tie! You are allowed to dress casually keeping in mind the dress code policies.
We recommend speaking clearly, smiling, and showing off your personality. Don't be afraid to get enthusiastic! Scripts can be helpful, but it is best to be spontaneous and natural while speaking directly to the camera. Students watch the tutors' introduction videos while trying to select one, so give them the best of you :)
Some tutors show off their creativity by adding captions, graphics, photos or music to their videos. While editing your video, please do not include photos of any other person besides yourself, in order to protect their privacy. We also ask that any logos for other companies be removed from your background before recording your video. If you add your teaching certificates or diplomas to your introduction video, please be sure to cover your full name in order to protect your privacy outside of the Cambly platform.
Create a profile that stands out
Your tutor profile is an opportunity to market yourself! We highly recommend taking your time as you fill out your tutor profile, being mindful of your use of the English language (we are an English-learning platform after all!).
Basic Info: Select a display name (please refrain from using your full name for privacy purposes), your dialect, and your date of birth. Your date of birth will not be visible to students. The flag displayed will represent your dialect/accent in order for students to easily find a tutor who meets their needs.

Introduction:

Your introduction will be the first thing students read about you when searching for a tutor, so feel free to market yourself in a tactful way to attract students!
Teaching Style: Do you prefer working with beginners? Are you kind and patient, scholarly and knowledgable, or fun and gregarious? Your teaching style gives you the opportunity to provide details of what students can expect from you in a lesson!
About Me: This section allows you to expand more on your introduction. Feel free to include cool talents, unique hobbies and interests, or anything that will make a student say "Wow, I want to book a lesson with this tutor!"
Languages: There are many different accents and dialects in the English language, so please choose which one best fits you! If you speak other languages, you may also add this to your profile to help attract more students.
Work Experience & Education: Feel free to share all relevant experience you have that would make you a great Cambly tutor! Keep in mind that no degree or teaching experience is required, but if you have any other experience that could be helpful, include it! If you do have a Teaching Certificate, there is an option to upload it. Please note that this will not be visible to students in order to protect tutors' privacy.
Testimonials
You can now feature a student's feedback on your Tutor Profile! This is a great way to showcase the positive feedback students have left you in order to attract new students. A tutor can choose up to 4 testimonials to feature on their profile at one time.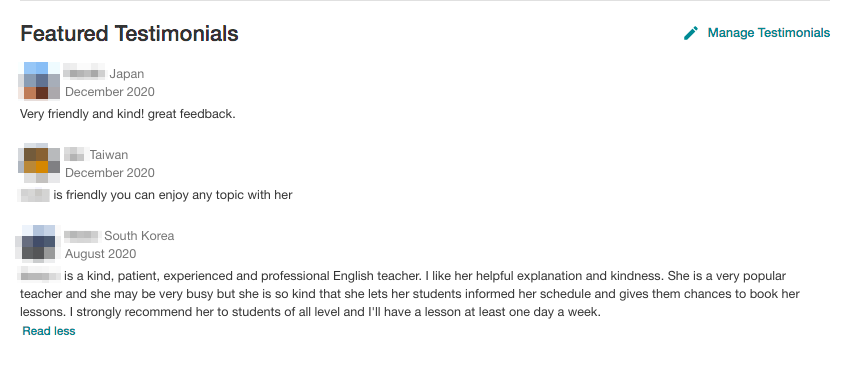 For more information about Testimonials, please follow this link!


Compliment Badges
You can now feature any compliment badges that you have earned on your Tutor Profile! Cambly prompts students to leave compliments after taking a lesson with you. Once you've received a specific compliment enough times, you will receive a special badge! A tutor can choose up to 3 badges to feature on their profile at one time.


For more information about Compliment Badges, please follow this link!


Privacy
Please note that your tutor profile is publicly available online. Only add information you feel comfortably sharing (i.e. no personal contact information). To further protect your privacy, you may use a pseudonym by editing your username from your account page.
If you have any diplomas or certificates in your photo or video, please be cautious with this as it may display your full name for the students to see.
Sometimes, students may try to contact tutors outside of Cambly. Along with using a different name, it's a good idea to also use a different profile picture on your Tutor Profile than what you use for you personal social media accounts. This makes it more difficult for students to search and find your accounts outside of Cambly.